In today's technologically driven landscape, the evolution from traditional print to captivating digital formats has redefined how we consume content.
As publishers navigate the realm of digital magazines, it's important to cater to readers' expectations for mobile optimization, convenience, and quality.
In this guide to digital magazine production, we dive into a step-by-step process you can use to convert your print magazine into a beautiful digital edition.
We also cover tips to improve the reader experience, boost sales, and easily fulfill digital subscriptions.
What's in this guide:
What is a digital magazine?
Popular digital magazine formats
The best digital magazine format for media brands and pro publishers
Step-by-step guide to digital magazine production
Digital magazine production tips
What is a digital magazine?
A digital magazine is a publication distributed and read in an electronic format. It's the digital equivalent of a traditional print magazine, but it offers the convenience of being accessible on computers, tablets, smartphones, and other digital devices. Digital magazines can cover a wide range of topics, just like their print counterparts, including news, lifestyle, fashion, technology, entertainment, science, and more.
Popular digital magazine formats
These are the top formats to consider when producing a digital magazine:
Mobile-optimized magazines (web app)
Mobile-optimized magazines are designed to be accessed through web browsers on smartphones and tablets. They offer a responsive design that adjusts to different screen sizes and orientations. This format provides a seamless reading experience across various devices and operating systems.
Pros and cons:
This format is truly responsive, so readers don't have to pinch and zoom to read the content. The only con is that this format is difficult to do in-house, and you'll likely need to hire expert help.
PDF files shared via email or download links
PDF files are a common format for sharing digital magazines. Users can receive the PDF via email or download it from a website or platform.
Pros and cons:
If readers aren't using a large tablet or computer, this format is difficult to read. Readers will have to pinch and zoom to view the content. However, this option is affordable and accessible to publishers of all sizes.
PDF files embedded in a web page
In this format, PDF files are embedded in a web page using a widget with arrows to flip the pages. Readers can view the content without downloading the PDF separately.
Pros and cons:
Similar to the above, this format is hard to read on small screens, particularly on mobile phones. However, this is an affordable method that can work well if most of your audience will be using a large screen to read your content.
Blog posts
Some digital magazines publish their content as blog posts on their websites.
Pros and cons:
This is one of the simplest and most accessible options, however, it's not ideal for premium content. While you can limit blog posts to logged-in users, it doesn't offer a premium reading experience. Blog posts are typically best for your SEO content, not premium content.
The best digital magazine format for media brands and pro publishers
While blogs and PDFs might work for independent publishers and content marketing teams, most media brands should opt for mobile-optimized magazines viewed in a web app.
This type of digital magazine is truly mobile-optimized and provides the best reading experience for any device.
When choosing a platform for producing digital magazines, here are some important elements it should offer:
Single-column content
White background
Branded fonts
Full-screen images
Step-by-step guide to digital magazine production
Follow these steps to publish your digital magazine:
1. Upload the print edition file to your digital magazine software
Kick things off by locating the file for your print edition, typically a PDF or HTML file.
Then, upload this into your digital magazine software.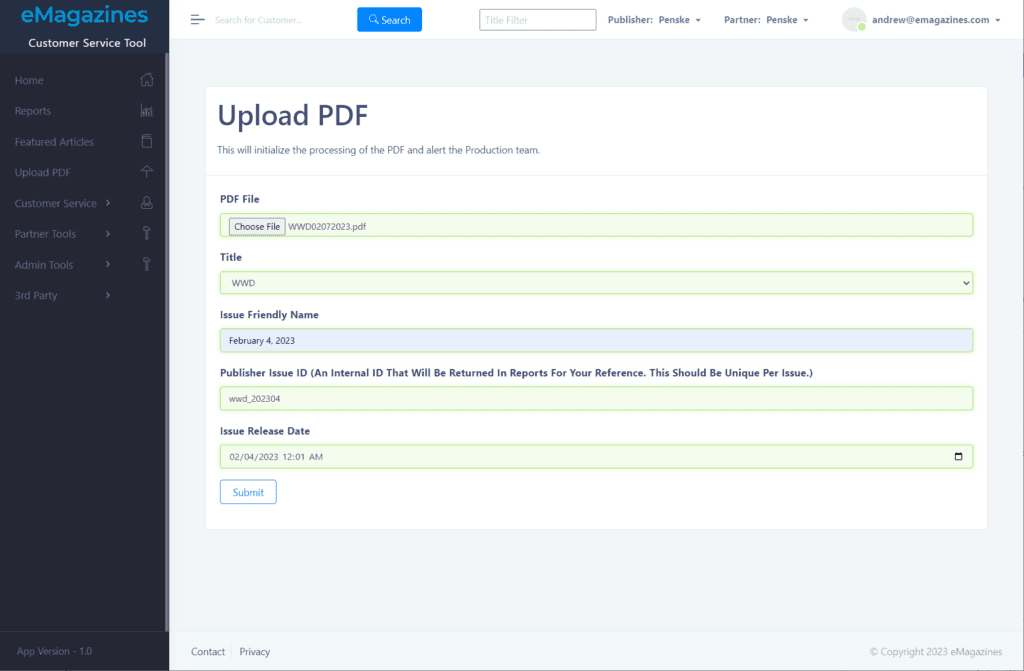 2. Convert the print magazine into a digital magazine
Click "Submit" to convert the PDF file into a digital magazine.
Your magazine software will use image processing and natural language processing tools to automatically pull your articles, images, and advertisements into a digital reading experience.
3. Make sure the converted magazine is on brand
Next, check the branding of the digital magazine. Make sure that the software has accurately portrayed the headlines, bylines, and other details using your on-brand fonts and colors. If you discover any discrepancies, use the edition-wide tools to make fast updates.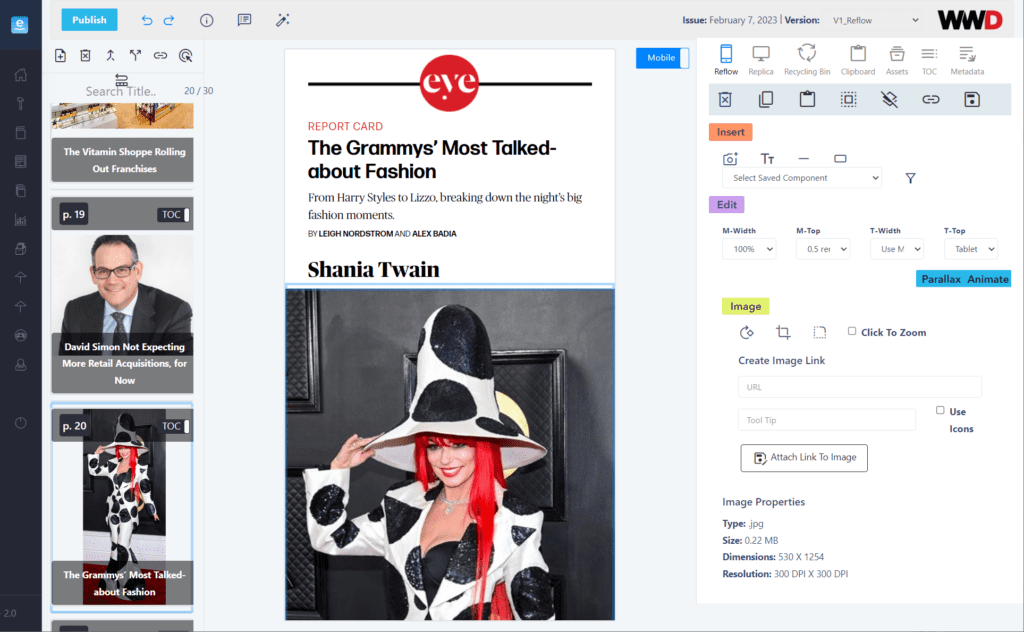 4. QA test the table of contents
The table of contents will be automatically generated during the conversion. Double-check that it's accurate. Review the headlines, article descriptions, and bylines for every article. Test each link to ensure you can easily navigate from the table of contents to the appropriate article.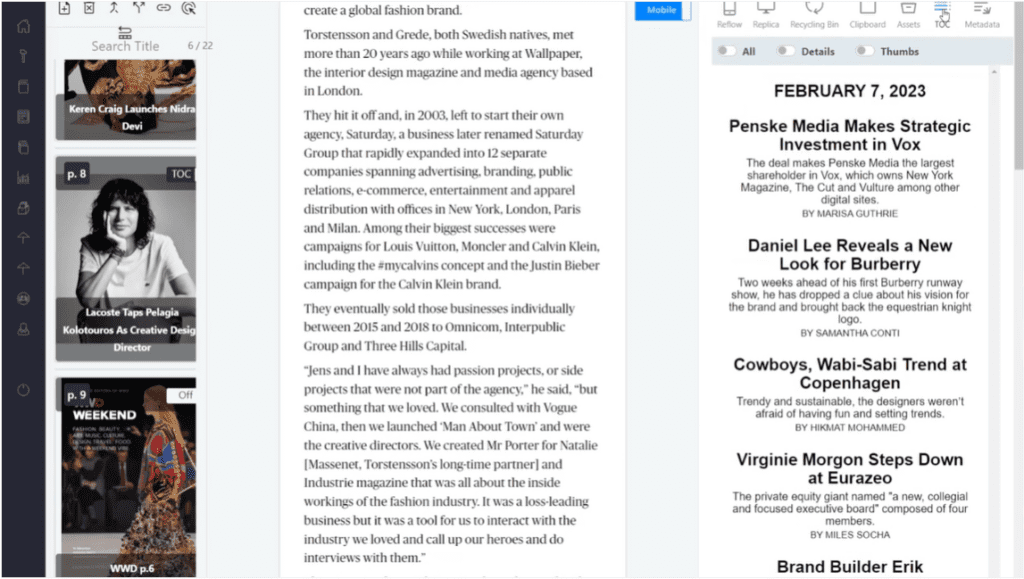 5. Embed deep links in your magazine's cover page
While not necessary, it's a great idea to add deep links to your cover page. These will link to the articles featured on your cover. It provides a better reader experience and even adds a benefit that physical magazines can't. To do this, head to the cover page, draw a rectangle around each snippet, and link it to the corresponding article.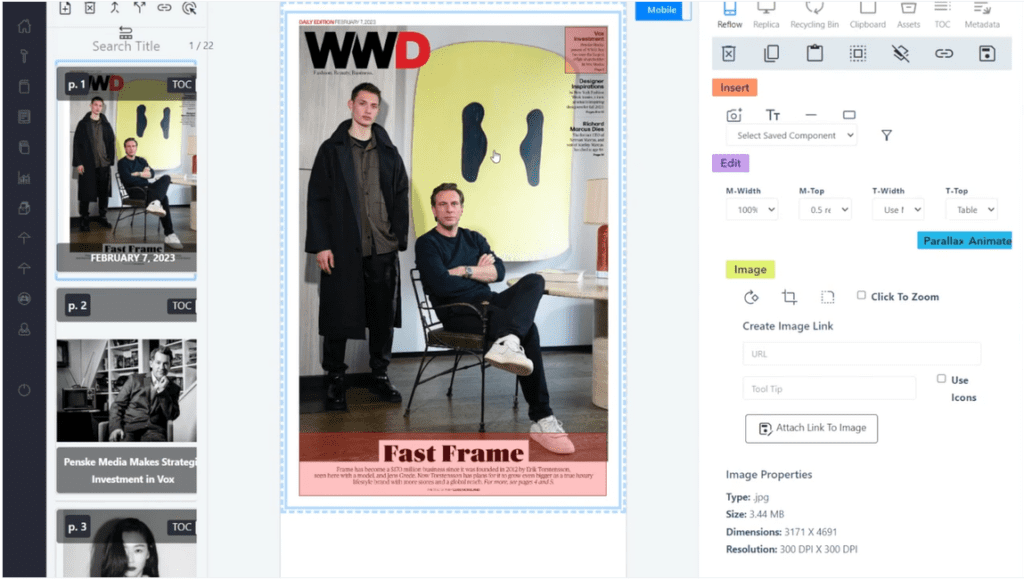 6. Add article audio if desired
You can use eMagazines to generate audio for your articles. Audio content is great for readers on the go and those who have low or no vision. Choose one of our real human voices that you feel embodies your brand, and our AI generator will apply that voice to your content. A little audio icon will show at the top of each article so readers know they can play the content instead.
7. Check the magazine on a mobile phone, tablet, and computer
Next, make sure to preview your content on a variety of devices. Do a final check for branding, accuracy, audio playback, etc.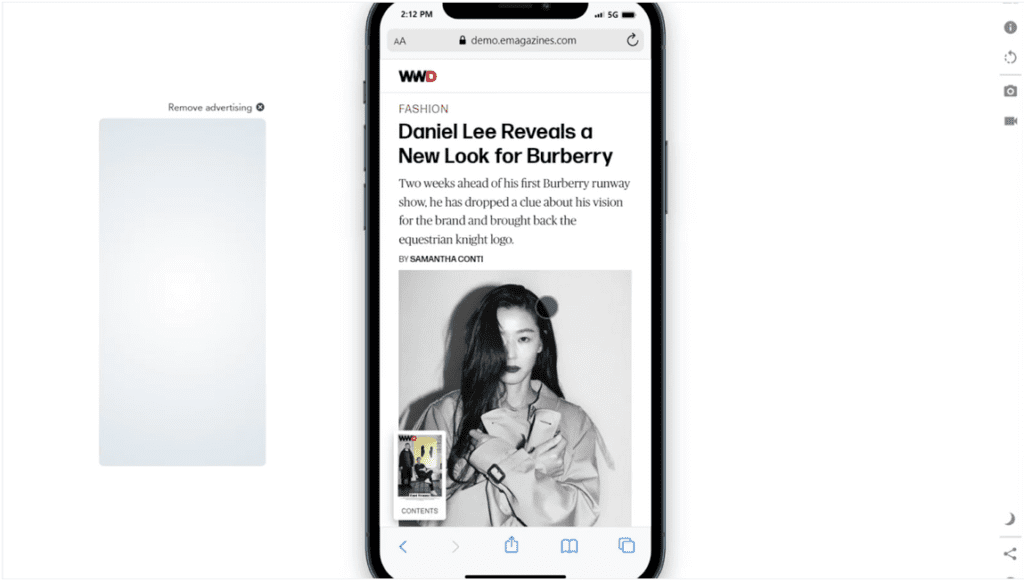 8. Deliver the magazine to paid subscribers
And lastly, it's time to deliver the digital content to your paying subscribers (either to all of them or only to those who pay for your digital content).
We recommend delivering content via secure links that open your digital magazine on a web browser. Learn more about this delivery method in the tips below.
Digital magazine production tips
The digital version of your magazine can represent a massive stream of revenue for your media brand, so you want to get it right.
Follow these pro tips for digital magazine production and create a more holistic publishing strategy:
1. Prioritize the reader experience
The top tip is to prioritize your reader experience above us. When setting up your process for publishing digital magazines, you'll have many stakeholders, goals, and things to consider. Make sure that the reader experience is your number one priority. This will ensure you choose the right publishing software and distribution process.
2. Strategically bundle and sell premium content
Digital content is endlessly scalable and can help you serve new audiences, both within your geographical market and outside of it. Boost the revenue of your digital channel by creating premium upgrades and bundles.
Here are some ideas:
Sell access to your digital backlog of issues for a one-time fee
Give access to your digital backlog as a free bonus to boost conversions for your digital magazine subscription
Sell premium digital content to your subscribers, like special issues, anniversary issues, etc.
3. Eliminate the need for mobile apps
Magazine subscribers don't want another app cluttering their phones, and fortunately, it's not necessary to create a mobile app to deliver your digital magazine. Instead, you can fulfill digital magazines through email notifications that link to your web-based magazine. This way, no matter what device users open the email on, they can easily read the content. eMagazines can help you set this up securely so that links can only be viewed by paying subscribers and not shared.
Of course, there are some benefits to creating a mobile magazine app. You can create a strong brand presence. If you plan on offering other content or experiences, a mobile app might be the right choice. In that case, you can deliver the right issues to the right users within your app.
4. Do away with user passwords
When producing and delivering a digital magazine, you don't need to set up user passwords. When you eliminate passwords, you reduce the amount of support tickets you'll receive. You don't have to worry about users forgetting or losing their passwords. With eMagazines, you can deliver digital magazines using secure links (that can't be shared with others).
5. Consider outsourcing your digital magazine production
Producing a digital magazine is a highly specialized technical skill.
You need the right software and the right talent. Your team might find that you can save on costs and provide a better reader experience by outsourcing production completely (rather than tinkering with the software yourself).
Learn more about producing digital magazines with eMagazines.