Publishing a digital magazine is a smart way to scale your content's reach. You can drive subscriptions from mobile-first readers who love to consume content on the go, as well as people outside of the geographical region of your print offering.
But when people use the term "digital magazine," they could be talking about very different things.
Are you looking to publish a digital magazine that will only be sent to your paying subscribers? Or do you want to release some blog content for free?
Whether you're looking for a solution for a major media brand or a small regional magazine, we've got you covered.
Keep reading for methods, steps, and best practices.
4 ways to publish a digital magazine
Here are the four main ways to publish digital magazines:
Use digital magazine software – This option is recommended for most publishers. With a digital magazine solution, you can provide high-quality content that is easy to read on any device. No special app is required, as the magazine can be read in a mobile browser. eMagazines offers the software and services publishers need to create mobile-optimized digital magazines that can be read on phones, tablets, and computers. This is the best option because you can restrict access to the content while still providing an easy reading experience.
Create a blog – You can also turn your idea for a digital magazine into a blog. By releasing the content for free on your website, you can attract a large audience that you can then monetize through display advertising. This method is great if you don't have a lot of traffic, because you can use search engine optimization (SEO) to drive search traffic to your website. However this method isn't recommended for premium content.
Share a PDF file – You could also share the PDF version of your magazine with subscribers. While this is an easy solution, it's not recommended. It's very difficult to read PDF files on most devices because you have to pinch and zoom to make the content legible. You're better off giving your readers mobile-optimized content (see steps below).
Embed your PDF magazine in your website – And lastly, you can embed the content in your website. With a digital publishing solution like Heyzine, you can turn a PDF file into an embedded, flippable magazine. Again, readers will have to pinch and zoom to read all of the columns and sections, so this isn't recommended if you want to really wow your audience with a smooth reading experience.
How to publish a digital magazine (step by step)
Below, we cover how to publish a digital magazine using professional magazine software to create a superior reading experience on every device.
Follow these steps to publish your own digital magazine:
Step 1. Upload a PDF, HTML, or other supported file
The first step is to upload the print version of your content. The most popular formats are PDF and HTML.
The digital magazine software will then read that PDF file and convert it into mobile-optimized content.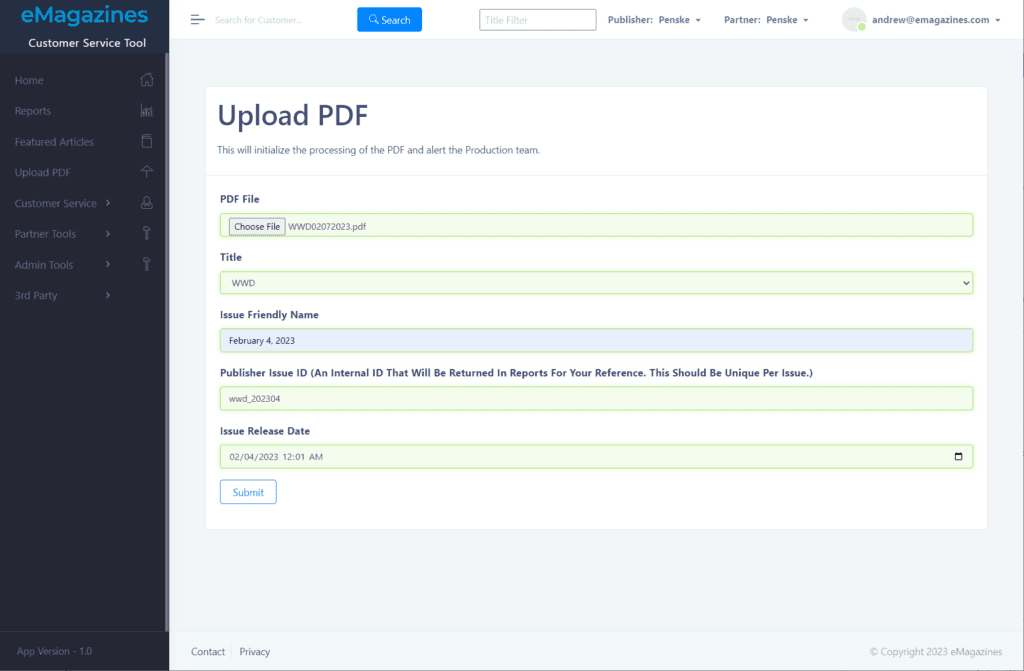 Step 2. Review and adjust the styling
The next step is to check the output.
You should see clean, single-column content with fonts and colors that match your branding. The mobile-optimized reader pulls directly from the styling of your print version so there should be few changes to make.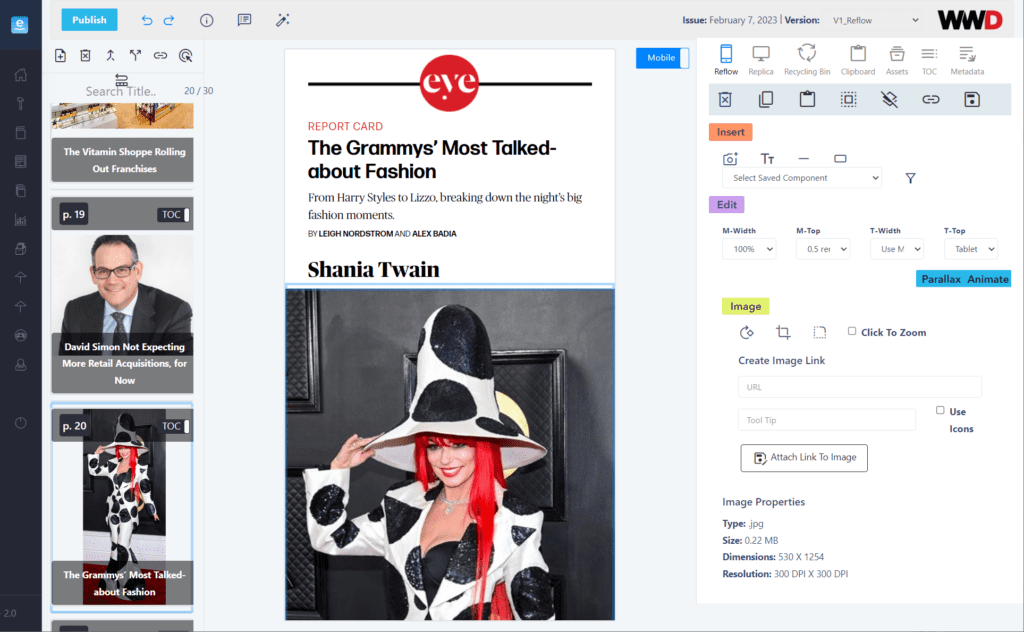 But it's still a good idea to check everything. You might need to make global changes to increase or decrease the font size of the bylines, for example. Or you might want to remove image captions or credits that were automatically inserted.
Step 3. Test out the table of contents
Now it's time to test out the table of contents. The digital magazine software should automatically create a table of contents that links to the appropriate articles. At any time, users can see this TOC in the corner of their device and use it to navigate deeper through the magazine.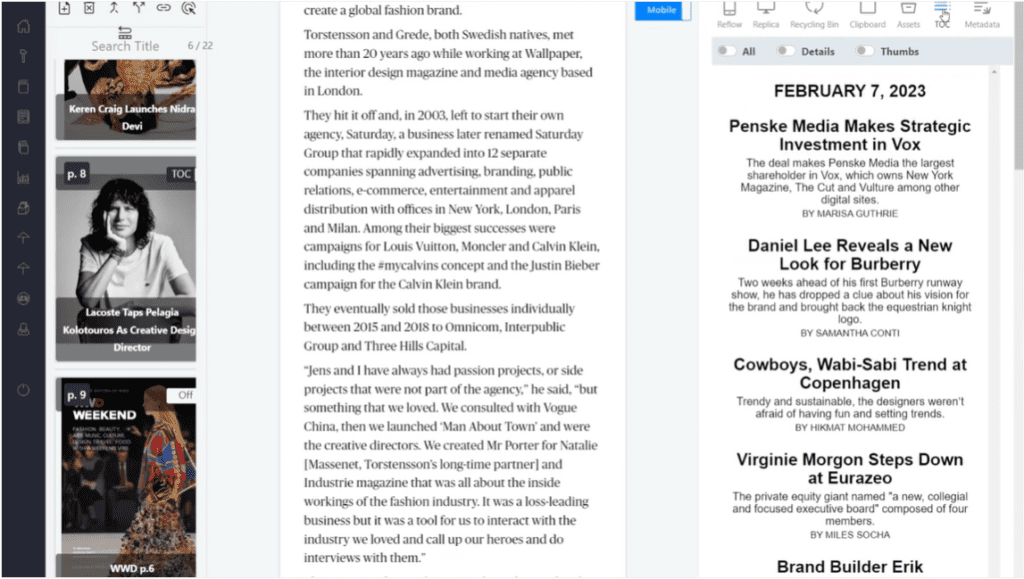 Simply check that all titles and descriptions are correct in the TOC and that each item links to the correct article.
Step 4. Add jump links to your cover page
Next, add some jump links to your cover page. These internal links allow readers to click on the cover page callouts to be taken immediately to that article.
All you have to do is select the area on the cover page by drawing a rectangle. Then, add the link to the article.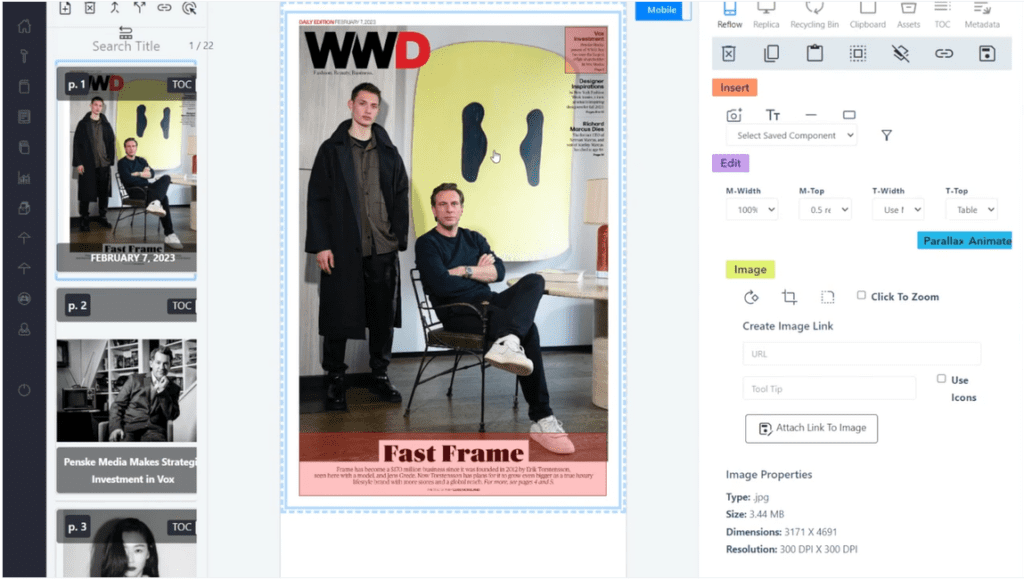 Step 5. Preview the magazine on different devices
And lastly, you'll want to preview your content. Make sure to scroll through each article to check for any errors or issues.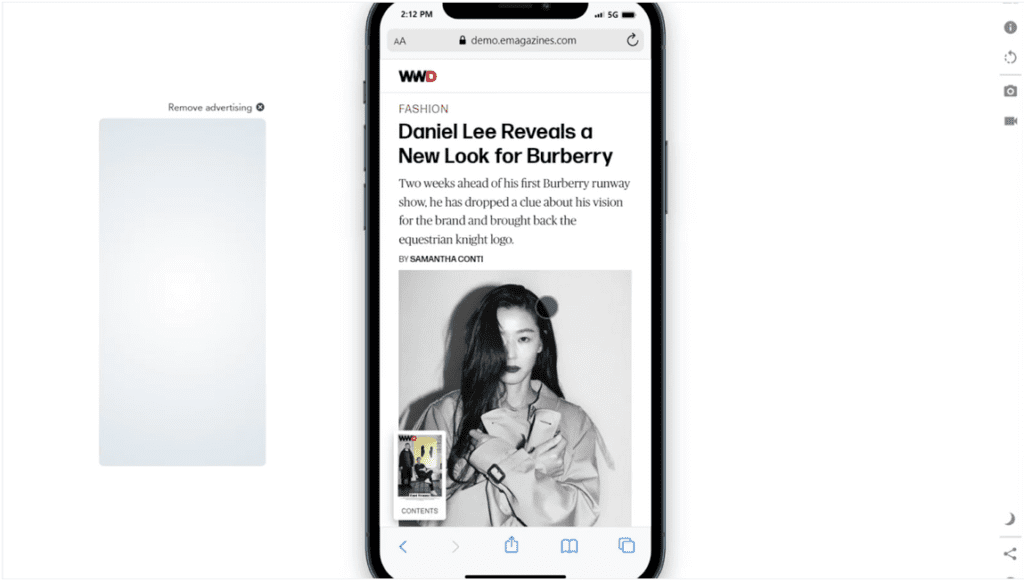 You should preview the content on a mobile phone, tablet, and computer to make sure the content is responsive and looks great no matter the screen size.
Need help? We offer turn-key production and delivery services to convert your print magazine into a digital version and deliver it securely to your subscribers.
Best practices for publishing a digital magazine
Reading digital content can be enjoyable or obnoxious. It's all up to how the publisher formats and presents their content.
To create truly wonderful reading experiences, follow these best practices.
1. Don't share it in PDF format
Just say no to PDFs, whether shared via email or embedded in a website. PDF files are typically over-designed for the digital world. Print doesn't translate into the digital world well. Most of the time, readers must pinch and zoom their way through each PDF page. No fun.
2. Offer mobile-optimized, single-column content
Ensure that the digital magazine solution allows you to publish single-column content. Check out this example from People magazine: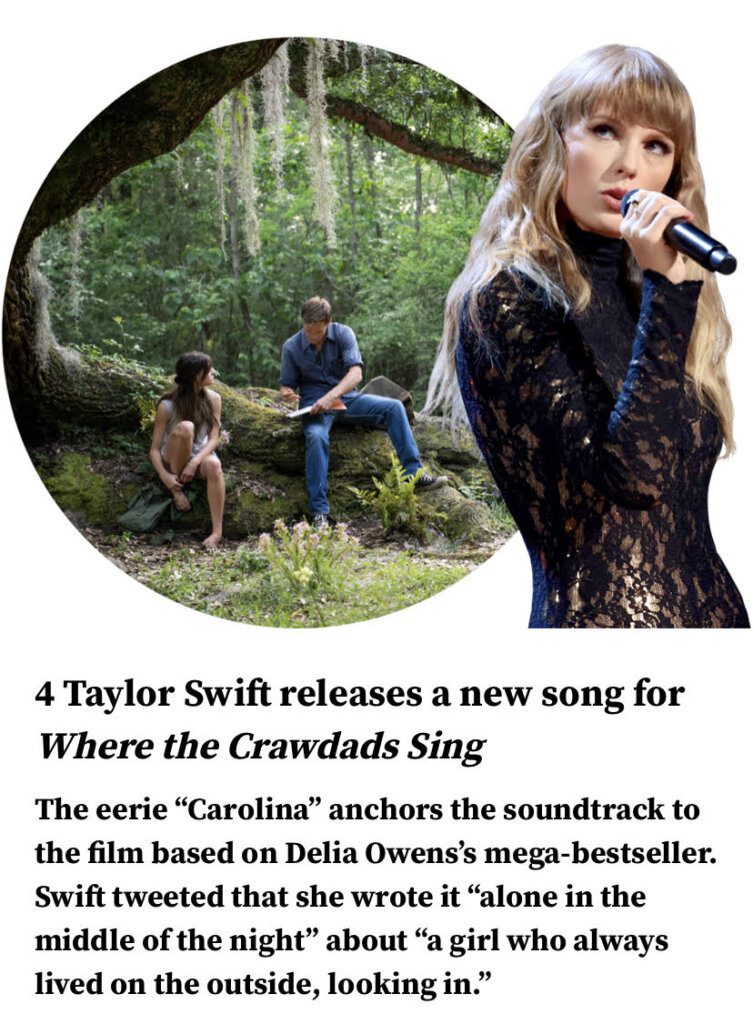 Of course, the print version has multiple columns and colored backgrounds, but the digital version is as pared down as possible. That's the real essence of mobile optimization.
3. Match the digital branding with the print version
Just because the mobile version is greatly simplified, doesn't mean your brand should be absent from the reading experience. Make sure that you include your branding in the article fonts, colors, and little design elements like separators and icons.
The good news is that your content takes center stage with truly mobile-optimized magazines. So your article photography will contribute a lot to creating a reading experience that feels on brand—without you having to do anything extra.
4. Get rid of app downloads and passwords
You should also do away with mobile apps, if you can. While we do offer native app creation and management services, we find that most magazine publishers don't need them. Subscribers appreciate not having to download anything, or having another app cluttering their screen. Not creating a mobile app is more affordable for you as a publisher, and you get the added benefit of not having to worry about lost passwords and all of the customer support questions that go along with them.
The alternative is to use digital magazine software that offers a mobile-optimized reader that works in any web browser. You can then deliver the content to subscribers using secure links that can't be shared.
5. Add article audio automatically
And lastly, to take your digital magazine to the next level, try adding audio.
Audio creates a richer content experience, caters to people on the go, and makes your magazine more accessible to vision-impaired people.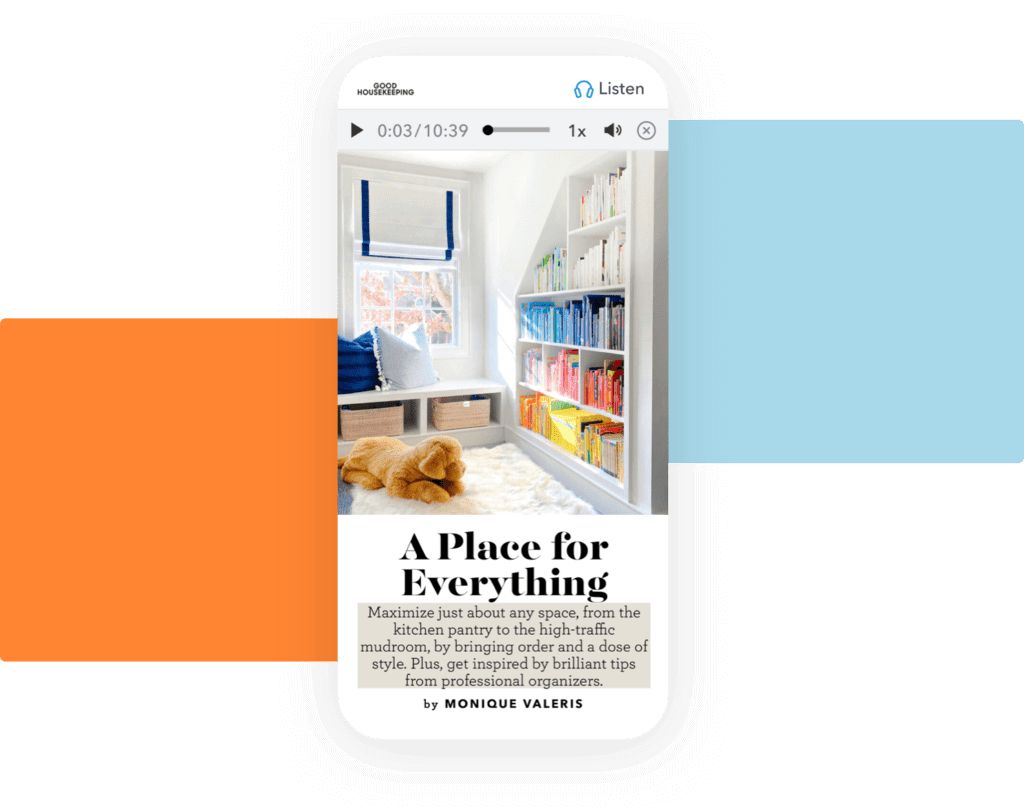 With eMagazines, you can automatically add high-quality, AI-generated audio to all of your articles. This way, you can provide awesome audio without hiring voice actors every month.
Publishing a digital magazine is pretty straightforward. Just make sure to put the reader experience first, and you can't go too far wrong.
Ready to publish the best possible digital version of your magazine? Learn more about eMagazines.