Looking to convert your PDF to a digital magazine? You'll need the right strategies and platform to make it happen.
If you publish a small niche magazine, you might be looking for a simple conversion tool that will allow you to embed mobile responsive content in your website. Or, if you're part of a larger publishing company you might want to integrate digital magazine creation with other services like subscriber delivery, back issue access, and subscription order pages.
In this article, we cover the top benefits of converting PDFs into digital magazines, the steps to make it happen, and the top tools for every business type. Keep scrolling for our platform recommendations for publishers, small creatives, and enterprise communications.
Why you should turn your PDF file into a digital magazine
Mobile magazines come in many different versions, file types, and formats. And not all of them are great for readers.
PDFs are notoriously hard to read. On a mobile device, columns and sections are too small. On a computer, the reading experience is a little easier but still feels off. PDF layouts designed for print don't translate well in the digital world.
Fortunately, you can fix these issues. Here are the top benefits of converting those PDF files:
Mobile responsiveness – You can deliver a magazine that is mobile responsive. It will be easy to read on phones, tablets, laptops, and desktop computers.
No need to pinch and zoom – Your readers will not have to pinch and zoom around the page to read the text. Instead, the font will be appropriately sized automatically.
Simple layout and alignment – A mobile magazine offers a simpler layout than a PDF designed for print. Everything will flow in a seamless, sensible way and users won't have to guess what to read next.
Allows for swiping and scrolling – A great mobile magazine allows users to rely on touchscreen methods that feel native to their device. You can scroll to keep reading an article or swipe to turn the page to the next article.
Best user experience – Overall, the entire reading experience is much improved with a digital magazine compared to a PDF. The magazine viewer you choose should put the reading experience above all else. (A PDF is at the mercy of the designer, who's probably designing for print.)
Now that we've covered why it's so important to avoid sharing PDF magazines with readers, let's dive into the step-by-step process for magazine conversion.
How to convert your PDF into a digital magazine in 7 steps
Here's how to create a mobile magazine that readers will love.
You'll need interactive magazine software like eMagazines to follow these steps.
Step 1. Upload your PDF file to the converter
The first step is to upload the PDF file into the platform. At eMagazines, we work with publishers in a hands-on way and we provide digital magazine production and delivery services for the majority of our clients. However, some clients prefer to handle the process themselves.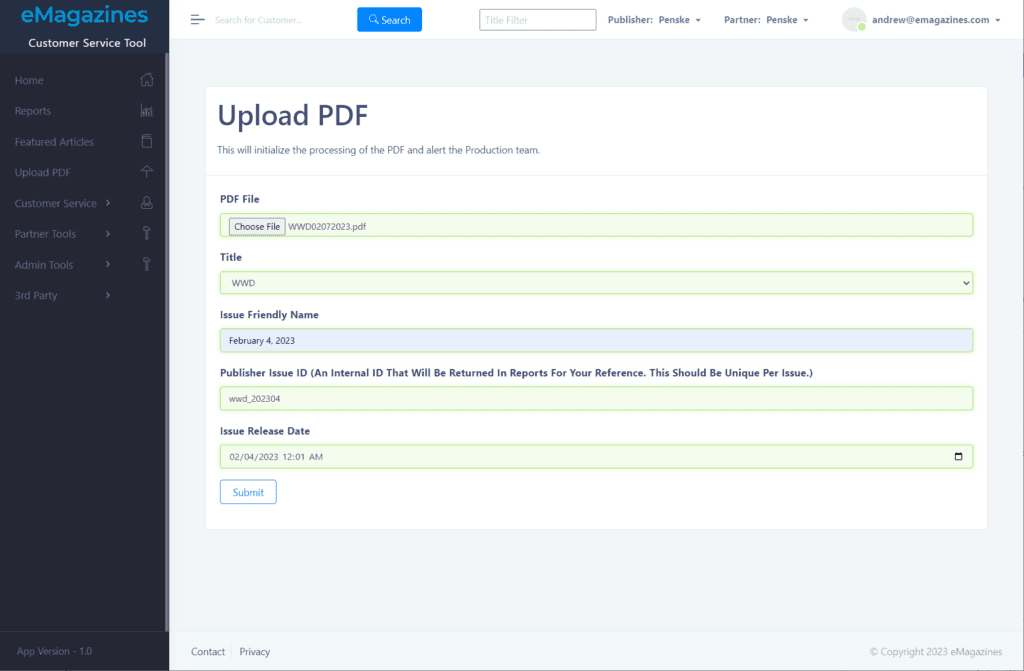 Step 2. Make sure the style matches your brand
After you've uploaded the PDF, the digital magazine content should display as lifelike as possible. It will pull articles and columns into a single-column view so that each piece is easy to read.
You should scroll through the article content and check that all of the styling matches your brand:
Byline font
Headline font
Body copy font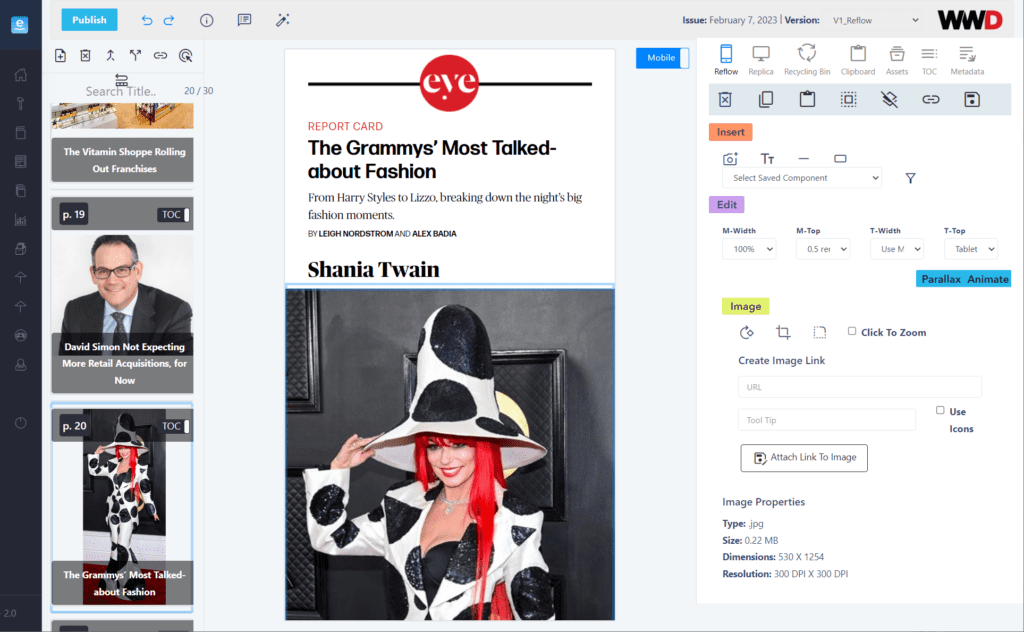 You should also take a look at the content of the articles and pictures to make sure everything has been imported.
Step 3. Create filters to easily fix repetitive issues
The next step is to create quick rules to address any issues. For example, the magazine conversion software has automatically pulled an image credit for every photo. As you can see in the picture below, the image caption says "P.L.N. photograph by Tonya Matyu." If you don't want these image credits to be displayed in your digital magazine, you could delete the text one by one. Or, you can set up a filter to handle this automatically.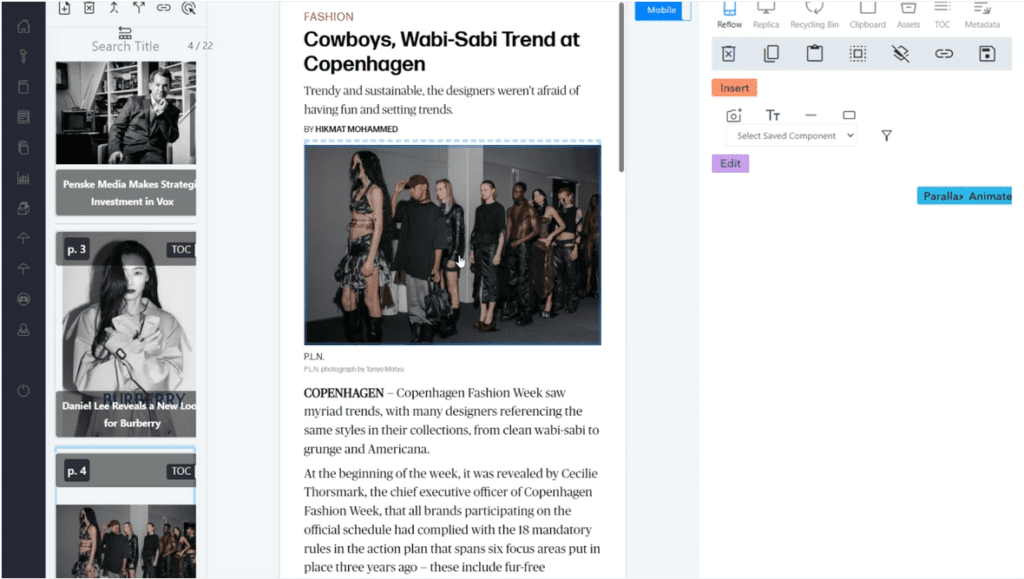 Take a look at your digital magazine and see if there is any content or details that you don't want to display. You can remove it manually or set up rules for a faster processing time.
Step 4. Double-check the table of contents
Next, click on the TOC icon to view the Table of Contents. Check that the date, titles, descriptions, and bylines for all articles have been pulled in correctly. You can also click on each title in the TOC to be taken to that article to ensure each link is working properly. This TOC will be available to readers at all times, so they can orient themselves within the magazine and click through to articles they're interested in, instead of having to swipe their way there.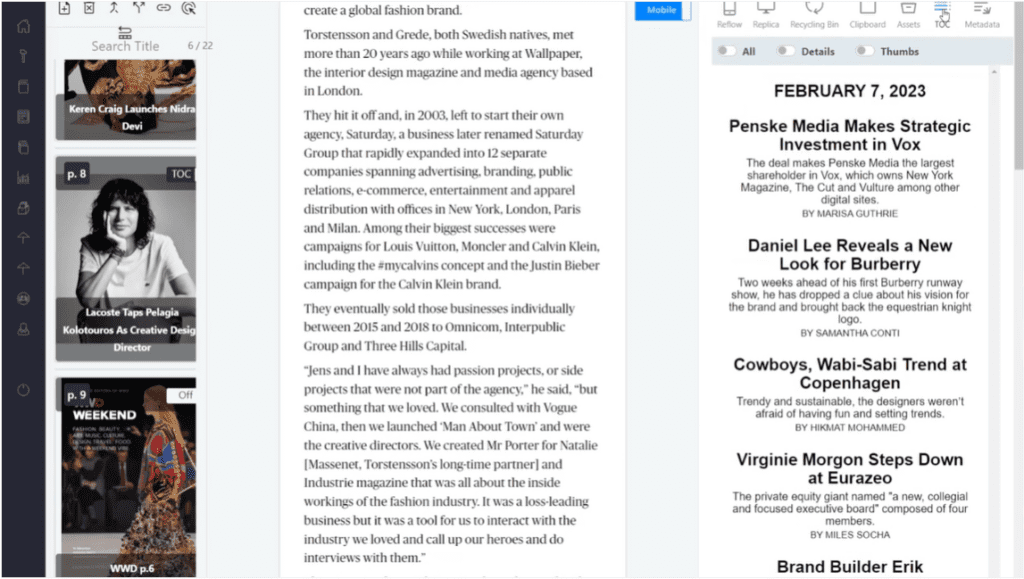 Step 5. Add deep links to your cover page
Before you publish your digital magazine, you should also add deep links to your cover page. These links allow readers to click on a cover blurb and be taken to the corresponding article. All you need to do is click on the link icon to generate a link for any article featured on the cover page.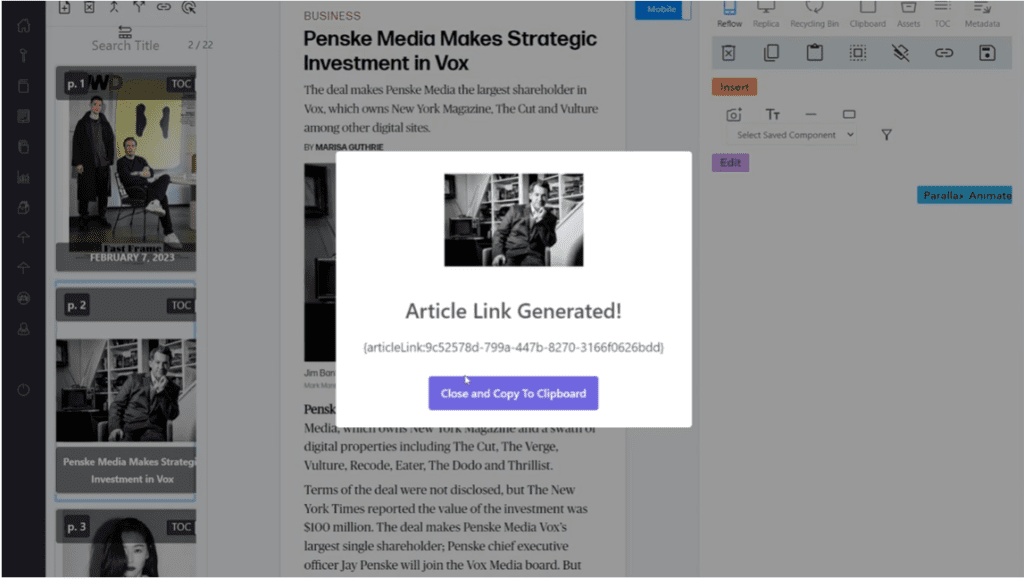 Next, head over to your cover page and draw a rectangle around the space where you want to hyperlink that article. Paste the link there et voila, you've created a deep link from your cover page. Repeat this process for all of your cover blurbs.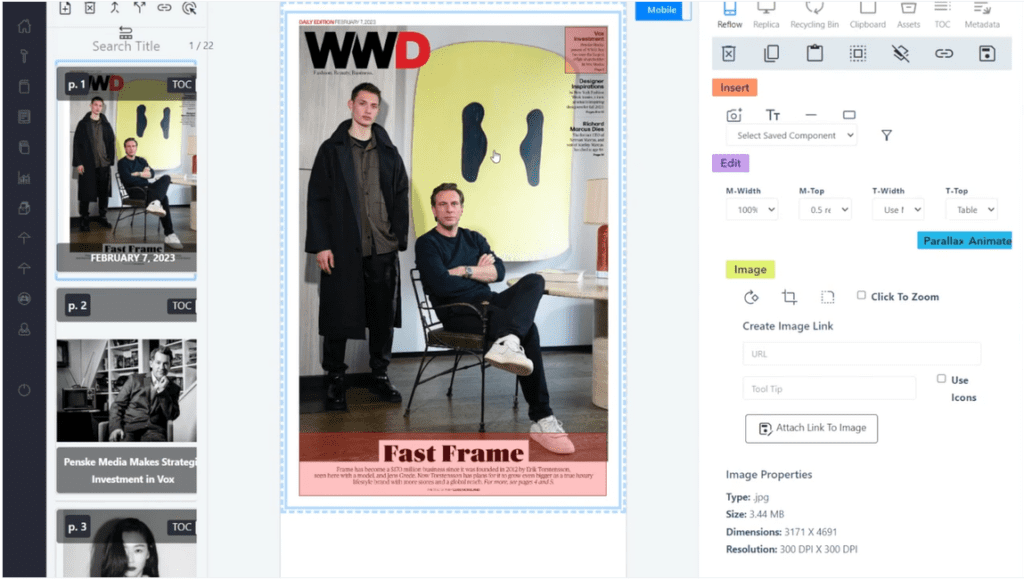 Step 6. Add AI-generated audio to each article (if desired)
Article audio is a great added feature of digital magazines. Subscribers can decide to listen to the magazine instead of reading it. This improves both convenience and accessibility. If you want to add this capability to your magazine edition, head over to the article audio dashboard and click the "Submit Audio" button.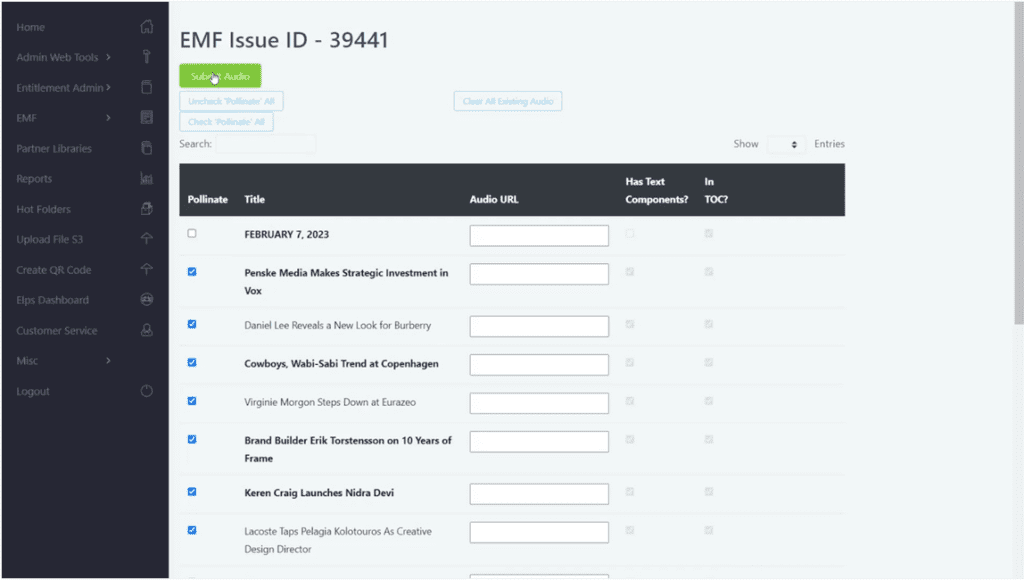 Automatically, you'll have high quality, AI-generated audio content for each article. In the settings, you can choose the voice that best matches your brand. The "Listen" button will appear at the top of every article, clearly showing readers that they have the option to listen instead of read.
Step 7. Preview your digital magazine in mobile view
The final step is to preview your digital magazine in mobile view. So far, as you've been working inside of the platform, you've seen what it will look like on a desktop computer. Now it's time to make sure that the digital magazine will look great on mobile devices.
Use your mouse to scroll and swipe through the articles, checking for any style or content errors.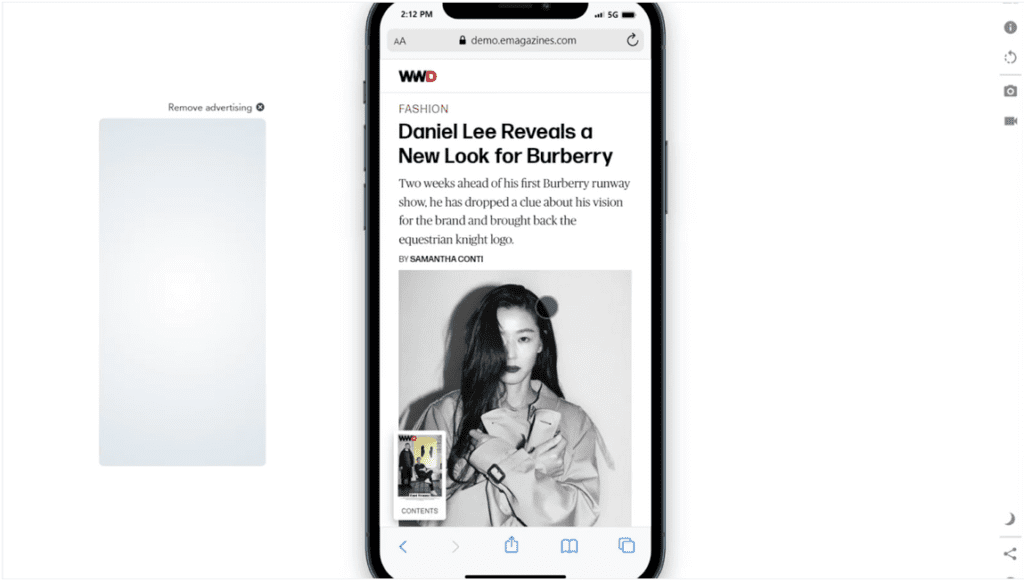 If you've chosen to add audio to your articles, you should listen to a few of the files to make sure they sound great. You don't need to listen to every track, but you might want to click on each "Listen" button to check that the audio plays and that the estimated listening time matches the length of the article.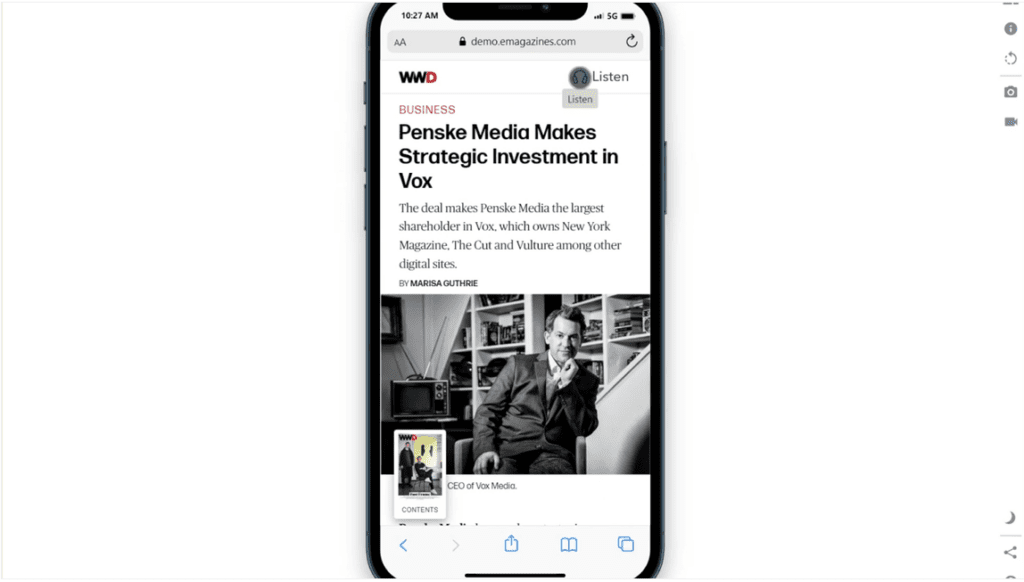 You can then deliver the digital magazine to your readers via email notifications and your mobile app. If you're working with eMagazines, we'll manage every aspect of production and delivery. We can also help you create high-converting landing pages to drive more subscribers.
Top tools for converting PDFs to online magazines
To turn your PDF file into a mobile-optimized magazine, you'll need the right software. There are a lot of great solutions for PDF to mobile reflow. Below, we've chosen the best options for three different user categories:
Publishers
Small creators
Enterprise communications
1. eMagazines: Best for publishers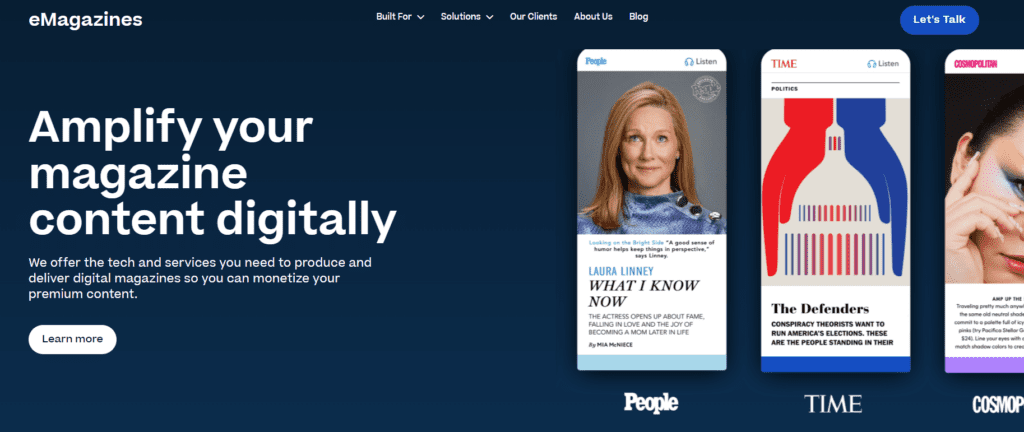 eMagazines is a great PDF to mobile reflow solution for publishers because it provides a top-notch reading experience. People, TIME, Cosmopolitan, Bloomberg Businessweek, Rolling Stone, and countless others all create digital editions using eMagazines. We offer both software and custom services to help publishers create easy-to-read mobile editions and deliver them to subscribers via email, mobile apps, and Apple News+. We also offer revenue-driving services including back issue sales, special issue sales, and subscription order landing pages.
While we do specialize in working with large-scale publishers, we also have more affordable options for niche and regional media companies.
Learn more about managing digital production and fulfillment with eMagazines.
2. Flipsnack: Best for small creators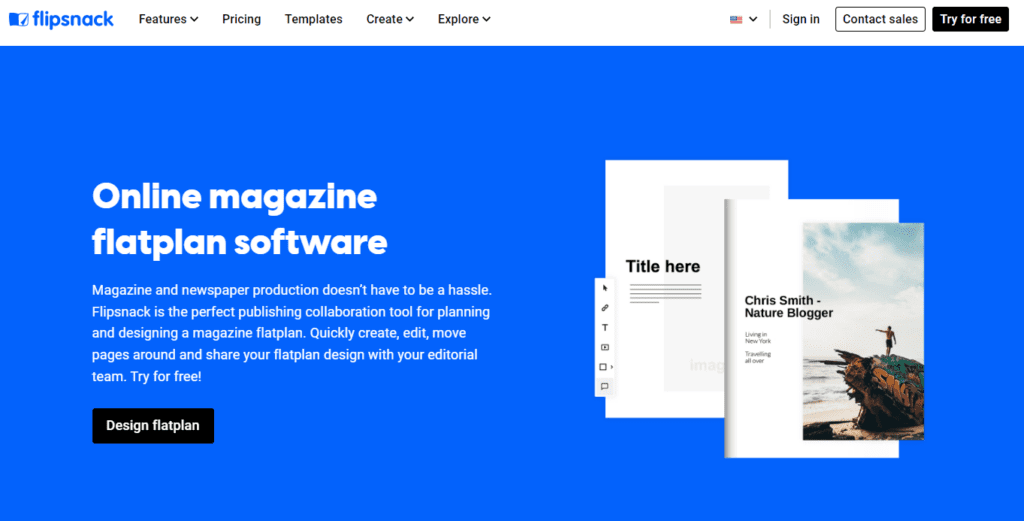 Flipsnack is a good simple solution for small businesses and digital creators. With plans starting as low as $14 per month, you can affordably create mobile-optimized magazines. Use Flipsnack to turn your PDF into magazine that can be shared via a link or embedded into your website. You can gate the website page to ensure subscriber-only access, or offer the content for free to your audience. Flipsnack is also a good solution for companies looking to create digital brochures and catalogs.
3. Foleon: Best for enterprise communications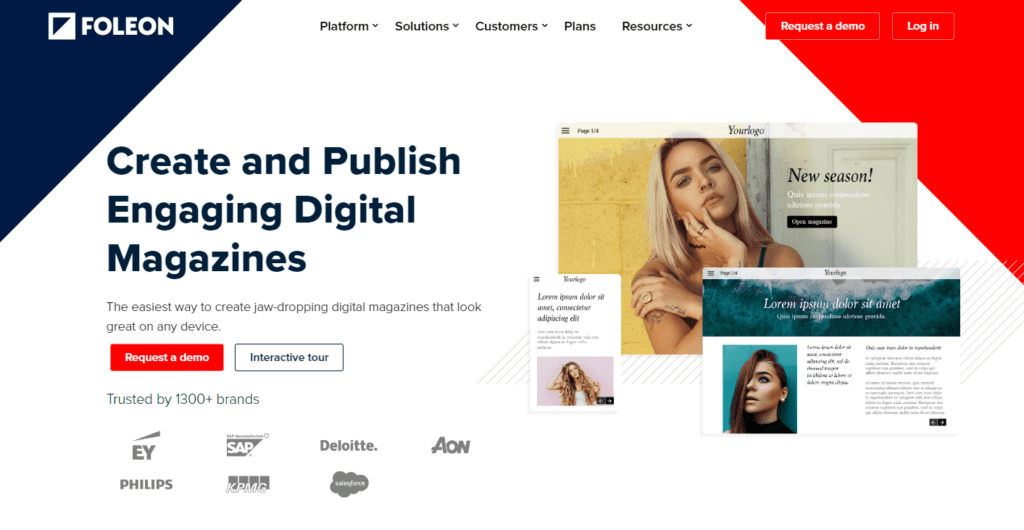 Foleon is best equipped to meet the needs of enterprises. Marketers, internal communications teams, HR, and other departments can use Foleon to convert PDF designs into digital magazines and then share them with their audience. The top use cases include content marketing, sales enablement, account-based marketing, interactive newsletters, and corporate brochures. In edition to an easy-to-use content editor and collaboration suite, you'll also get automated marketing tools and analytics to help you improve the success of various campaigns. The platform offers enterprise-only pricing, but because it can be used by multiple departments, you're likely to get plenty of bang for your buck.
PDF to mobile reflow is a common practice, but you need to choose a platform that meets all of your needs while putting the reader experience first.