There are a variety of ways to promote a digital magazine. You can use digital channels like app store advertising and social media campaigns, or you can use more traditional methods like direct mail and bus stop ads to reach audiences likely to enjoy digital-first content.
To create a winning digital magazine marketing strategy, you need to start with an excellent understanding of your audience, choose the right channels for your business, create strategic partnerships, and track your results.
In this guide, we dive into these steps in more detail and provide you with a list of marketing channels that worked great for growing digital magazine subscriber bases.
Make sure to learn more about eMagazines' relevant services, including subscription order landing pages, back issue sales, and customer acquisition partnerships.
Step 1. Know your audience
Demographics and interests typically make up digital magazine audiences. For instance, The New Yorker's audience could be described as left-of-center, well-educated, middle class or above, and urban. All of these attributes be considered demographics. But for some magazines, personal interests might be a more powerful way to target subscribers. Think sports like soccer, health topics like keto, hobbies like sewing, and entertainment interests like rock music. Any good digital magazine marketing strategy must begin with a strong understanding of the ideal audience. This way, you can choose the right channels and partnerships to reach those subscribers.
To determine your ideal audience, consider product-market fit. On the one hand, you need to research what audience will best respond to your content. But on the other, you need to choose an underserved audience and then develop the content that will keep them subscribed.
Step 2. Choose the right channels
Now let's dive into the top digital and traditional marketing channels that you can use to promote your digital magazine. Large publications might utilize all of these strategies, while small niche magazines might rely on just a few.
1. App store ads
Many magazines offer their own digital app. The app might some free content or only premium content for paying subscribers. You can run ads in the Apple and Android app stores to drive more users for your magazine app.
If you search "Vogue magazine" in the Apple app store, you might see this ad for The New Yorker's app. The company is targeting Vogue readers because they share a similar elite demographic.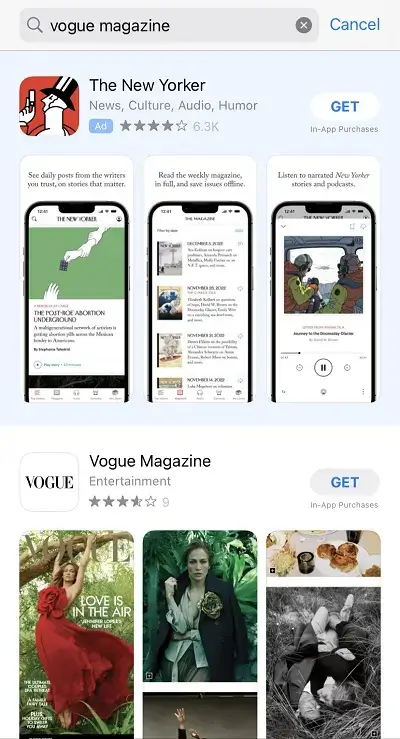 Keep in mind that it isn't necessary for digital magazines to launch a branded mobile app. Instead you can use eMgazines' digital production and delivery services. We create the most attractive, on-brand, mobile-optimized version of your digital magazine in a magazine viewer delivered to paying subscribers via email so they don't have to use passwords or download apps just to read your digital content.
2. Social media ads
You can also target your ideal audience on social media platforms like Facebook, Twitter, YouTube, Instagram, Pinterest, and TikTok. All of these platforms offer advanced targeting for both demographics and interests, making them a reliable source of new subscribers for any type of digital magazine. With certain platforms, you can even target the readers of your competition, making it more likely that you'll spend your advertising dollars on people who already read digital magazines like yours.
3. Display and digital publication ads
Google display ads make it possible to showcase your digital magazine on digital publications, blogs, and other websites. You can target websites based on the topic of their content. You can also reach out directly to non-competing websites that serve your ideal audience and broker the placement of a custom ad.
4. Metro area advertising
Digital readers don't just live online. They live in the real world too. You can use guerrilla marketing tactics to reach them and every aspect of their daily lives. One of the best ways to do this is by advertising with metro area transportation companies like bus and subway systems as train stations and airports. Not only will you be reaching urban dwellers who are likely to enjoy digital content, but you might be targeting them while they are waiting and bored and looking for something to do on their phones.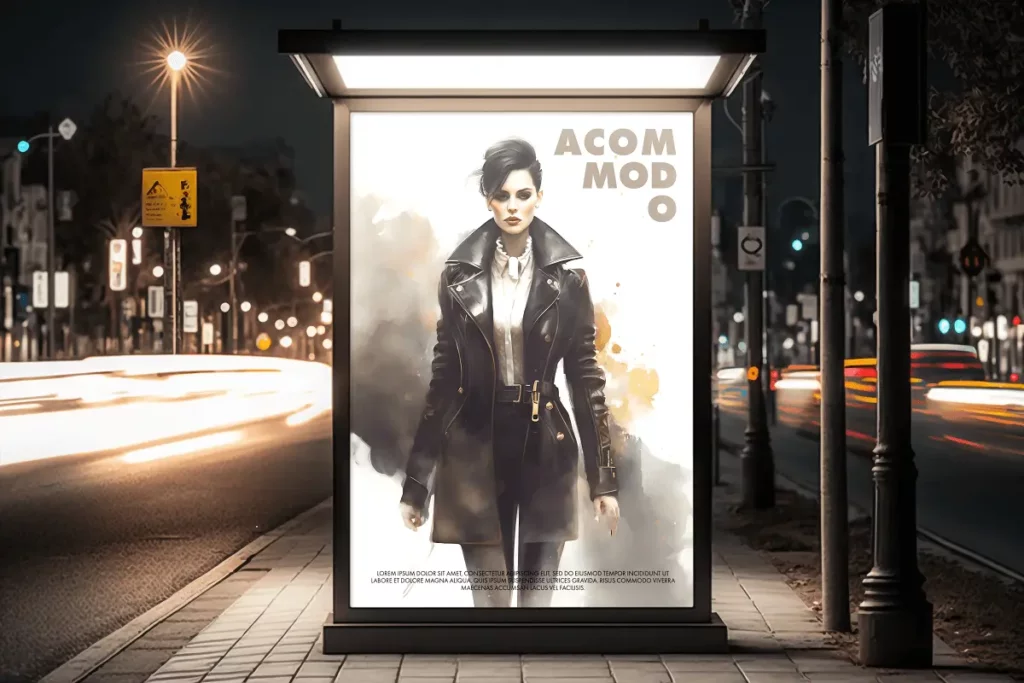 5. Affiliate marketing
Affiliate marketing is another option for growing your digital magazine. All this isn't as common for magazines that target certain demographics, it's an excellent strategy if you're looking to reach an interest-based audience. For instance, if you sell a quilting magazine with patterns an artist stories, you can reach out to quilting bloggers and social media influencers who are looking to monetize their content. Providing them with a recurring commission as long as subscribers stay subscribed, you can incentivize them to promote your order landing pages.
6. Digital distribution partnerships
Of course, the best magazine publishers don't attempt to do their marketing all on their own. They rely on strategic partnerships instead. This might include housing their magazine within a subscription service like Apple News+. Or, this might mean partnering with a company like Hoopla or Magazine Jukebox to get your digital magazine included on tablets in doctor's offices, universities, hospitals, airports, and other waiting areas. These partnerships can increase awareness of your content, leading to more organic sign-ups.
7. Email marketing
Email marketing is a common but complex channel.
Here are some of the best ways digital magazines can utilize email:
Lead magnets – Offer free content to grow your email list. That might be an exclusive story, an e-book with recipes, a helpful video course, or anything else that is good enough to charge for. By offering something of value for free, you can drive more email leads from your website, social media, and other digital channels.
Free newsletter content – You'll want to stay in touch with your list by sending them your very best stories. Share your blog articles, YouTube videos, and other free content on a daily or weekly basis to keep in touch with your audience.
Subscription campaigns – But of course, you can't just give things away for free. You also need to gain more paying subscribers. You can run occasional or ongoing upgrade campaigns. For instance, you might include a call-to-action section at the bottom of every email newsletter enticing people to sign up for your digital magazine (bonus swag, promotional pricing, etc.). You can also run one-off campaigns with bonuses and incentives that expire.
Referral incentives – Your email list is a wealth of opportunity not only for new revenue but for new leads. Incentivize your subscribers to share your digital magazine with their friends. You can give a variety of referral incentives for successful purchases, like branded swag, tickets to special experiences, or cash prizes.
Premium add-ons – Email is also a reliable marketing channel for premium content. That can include conferences, special issues, workshops, memberships, and other content and experiences. You can use email to target paying customers to increase your average customer lifetime revenue.
8. Direct mail
Direct mail is more commonly used to market print magazine subscriptions. But it can be effective when you're bundling a subscription to your digital magazine along with your print magazine. What's more, direct mail targeting tends to be more accurate for homeowners than renters because of the homeowner data that's collected in public records. But if you're looking to target homeowners based on their income, marital status, and location, this could be a winning strategy for you.
9. Influencer marketing
Influencer marketing is similar to affiliate marketing and that you are partnering with people who have audiences aligned with your own. While with affiliate marketing you only pay commissions, influencers will require payment for promotions regardless of results. Because influencer demographics tend to be broad and unspecific, this strategy is only recommended for interest-based digital magazines. (Think a yoga magazine partnering with a dozen micro-influencers in the yoga space to promote special pricing for a digital magazine subscription.)
10. Retargeting and win-back campaigns
While not a channel per se, it's important to consider adding retargeting and win-back campaigns to your digital magazine marketing strategy as well. With retargeting ads, you can bring unconverted traffic back to your subscription order landing page. And with win-back emails, you can offer special pricing, content, or swag to convince lost subscribers to renew their digital subscription.
Step 3. Create strategic partnerships and outsource where needed
The best marketing comes down to partnerships. Many digital magazines are better served by leveraging existing partnerships rather than trying to forge their own. This is especially true when it comes to mobile app advertising, display and online publication advertising, influencer marketing, and digital distribution partnerships. eMagazines offers a variety of customer acquisition partnerships for you to take advantage of.
Step 4. Track and optimize results
To adjust your marketing strategy, you need to know what works. Make sure that you're partnering with agencies and distribution companies that offer advanced reporting so you can track ROI. For each channel you use, there will be a variety of attribution tools that can help you determine what strategies and campaigns deserve continued investment.
Want to offer the most beautiful, readable digital magazine? Check out eMagazines.