Looking for a magazine viewer? Whether you're a publisher or a reader, we've got the best apps to consider.
As a publisher, your top priority is the reader experience. You need a magazine viewer that doesn't require pinching or zooming and one that is as on-brand as possible.
As a reader, you're probably looking to maximize the content you get in a single subscription. The best magazine viewer apps offer thousands of titles for a low monthly fee.
Keep reading for the best magazine viewers for tablets, phones, and computers.
What's in this guide:
What is a magazine viewer?
What to look for in a magazine viewer
Top 5 magazine viewers for publishers
Top 5 magazine viewers for readers
What is a magazine viewer?
A magazine viewer is a digital application that delivers a high-quality, optimized reading experience for a magazine. As you likely know, most print magazines are formatted to be read in the standard letter size, which is 8.5 by 11 inches. That large surface allows for a variety of magazine layout options, with columns, callouts, pull quotes, and more. But when read on a phone or small tablet, these creative layouts can be challenging to read. Even when reading on a laptop or desktop computer with a large screen size, print layouts often don't translate well and cause readers to have to hunt, squint, pinch, zoom, etc.
Magazine viewers solve these problems by converting print magazines into optimized digital editions.
Magazine reader apps might offer one magazine subscription only (such as People's app or Cosmpolitan's app) or they might aggregate hundreds or even thousands of magazine digital editions into a single monthly subscription service.
Magazine viewer example
So what does magazine content actually look like inside a digital viewer? Here's an example from People magazine's July 11, 2022 edition. The content from the page is reflowed so that each section appears in a vertical orientation. Nothing is aligned side by side, which would require readers to pinch and zoom.
The only motions required are to scroll up and down (to read an article) or to swipe to turn the page to the next article or section. This example was created with eMagazines.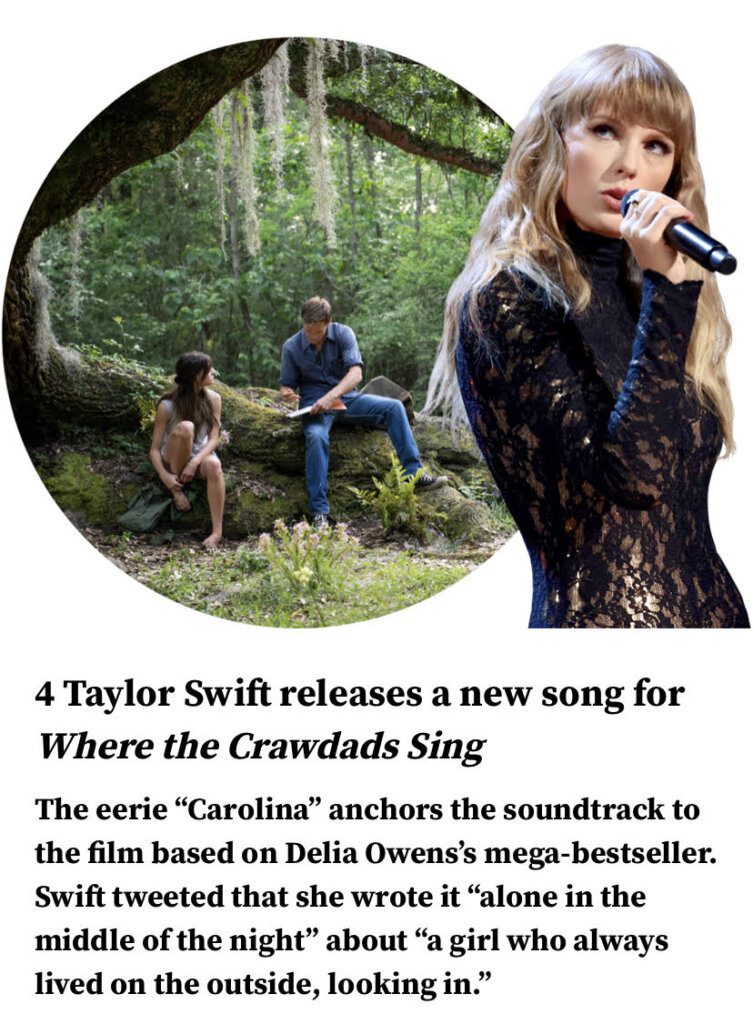 What to look for in a magazine viewer
To help you choose the right platform, here's a list of the top features you should look for.
Top features for publishers
Publishers should look for a magazine viewer that…
Puts the reader experience first – The platform you choose should offer the best possible reading experience on all devices. Ask the sales team for examples so you can see the digital editions for yourself.
Offers excellent customer support and/or done-for-you-services – If the platform is self-service, they should offer hands-on customer support to help you convert your magazine into an interactive online version. Because this is specialized, technical work, many publishers opt for custom services instead. So if you want someone to manage the process end-to-end, make sure that option is available.
Includes delivery and distribution – Not only do you need to format your content for the magazine viewer, but you also need to deliver it to your customers. The platform should offer features and assistance including email delivery, native app maintenance, Apple News+ delivery, etc.
Helps increase your subscriber base – The platform and team you choose should also offer services to help you increase revenue, such as A/B optimized subscription order pages and sales of your back issue archive.
Top features for readers
Meanwhile, readers should prioritize these elements
Offers the magazine content you're looking for – The most important thing is that the app offers the content you want. You can either sign up for your fave magazine's app or check that your fave magazine is included in a subscription with hundreds of other titles. (More on this below.)
Fits your budget – The magazine viewer should fit within your budget for monthly entertainment subscriptions. The good news is that most options are under $10 per month.
Easy to read on all devices – The magazine viewer should read smoothly on your mobile phone, tablet, and computer, so check for the quality and reading experience before you commit.
Top 5 magazine viewers for publishers
Try these platforms for offering digital magazine content in an optimized magazine viewer.
1. eMagazines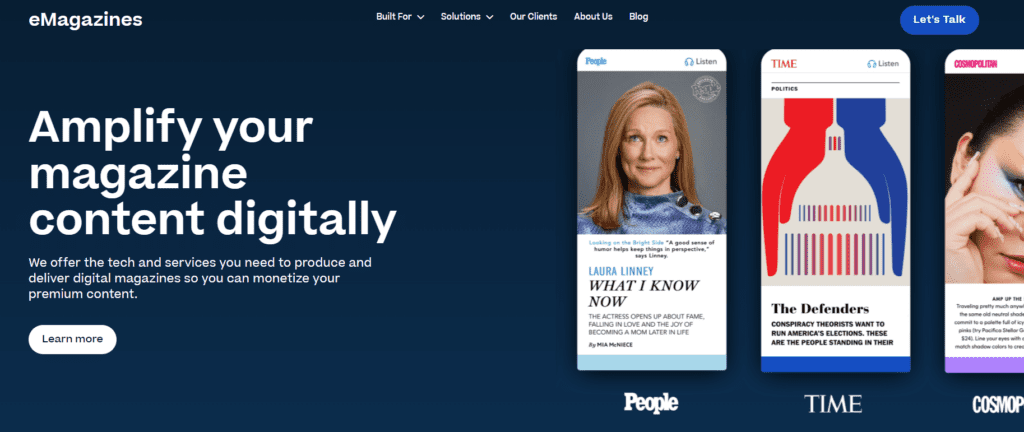 eMagazines is a magazine software platform that also offers fully managed services for producing and delivering digital editions. We can reflow PDF, HTML, and other file formats into digital magazines. We put the reader experience first and help publishers create digital editions that are beautiful, easy to read, and on brand. And with our Google Analytics integration, you'll be able to analyze the success of your content. eMagazines customers enjoy an average reader session time of 8 minutes (much higher than the industry average because the reading experience is so enjoyable).
2. Foleon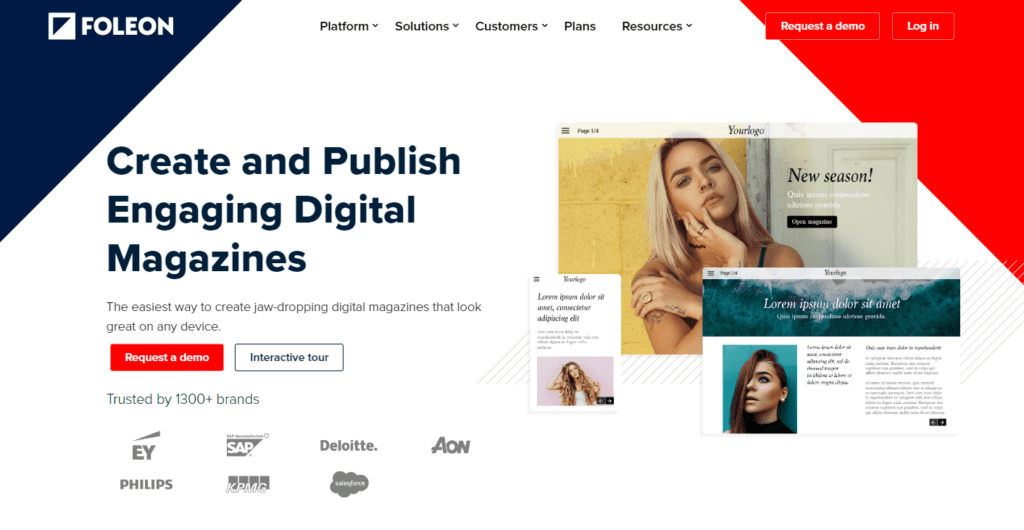 Foleon is a content creation platform that can be used to create digital magazines that can be easily viewed on any device. The platform is designed for corporations launching internal and external publications. Top features support sales enablement, account-based marketing, and content marketing. However, the platform can also be used by the media and entertainment industry.
3. Issuu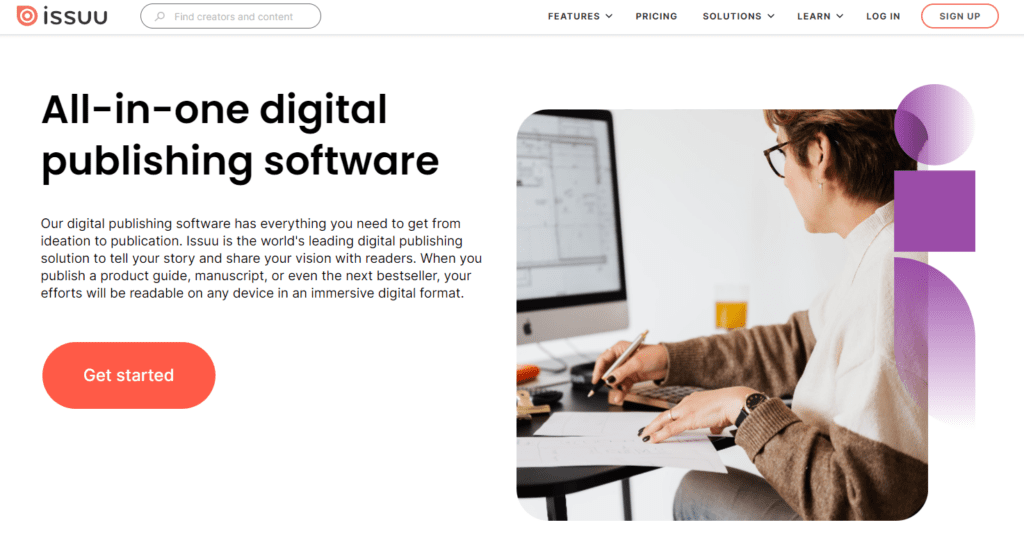 Issuu is a simple solution for small publishers looking to create digital magazines affordably. You can turn a PDF document into a digital magazine and provide the link to the magazine viewer to your audience. You can offer your content for free, sell a monthly subscription, or sell one-off access to each edition.
4. MagLoft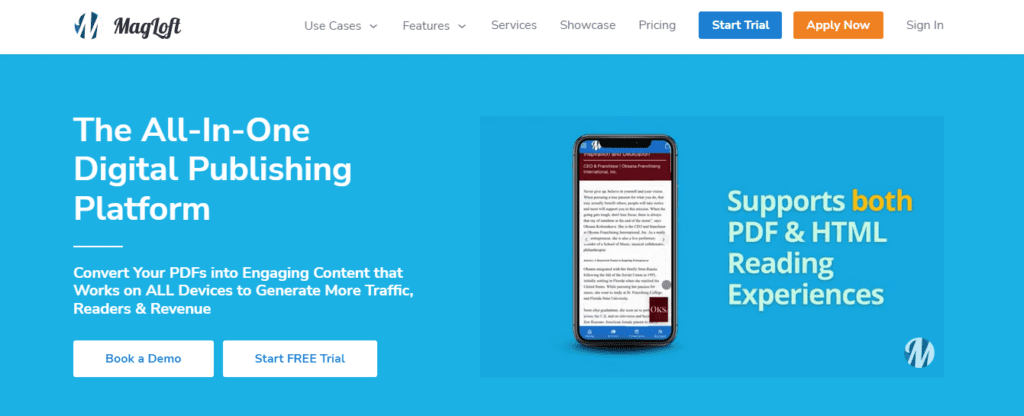 MagLoft is a digital publishing platform that lets you publish blog posts as well as online magazines. The magazine viewer comes with SEO and analytics features so you can optimize your content and report on your traffic and engagement. Additional features include a subscriber contact management system and payment processor.
5. Zinio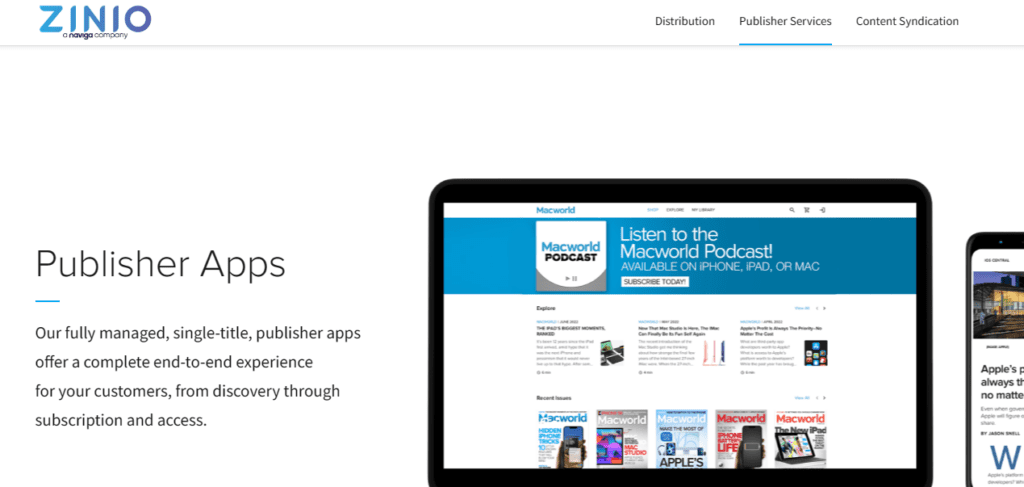 Zinio is another magazine reader platform for publishers. Use it to convert your print magazine into a digital edition and distribute it to your subscribers. While the reading experience is not as smooth as others on this list, Zinio does have a comprehensive list of publisher services, so it's worth considering.
Top 5 magazine viewers for readers
Looking for a magazine viewer to make it easy to read your favorite magazines on the go? Consider these options.
1. Magzter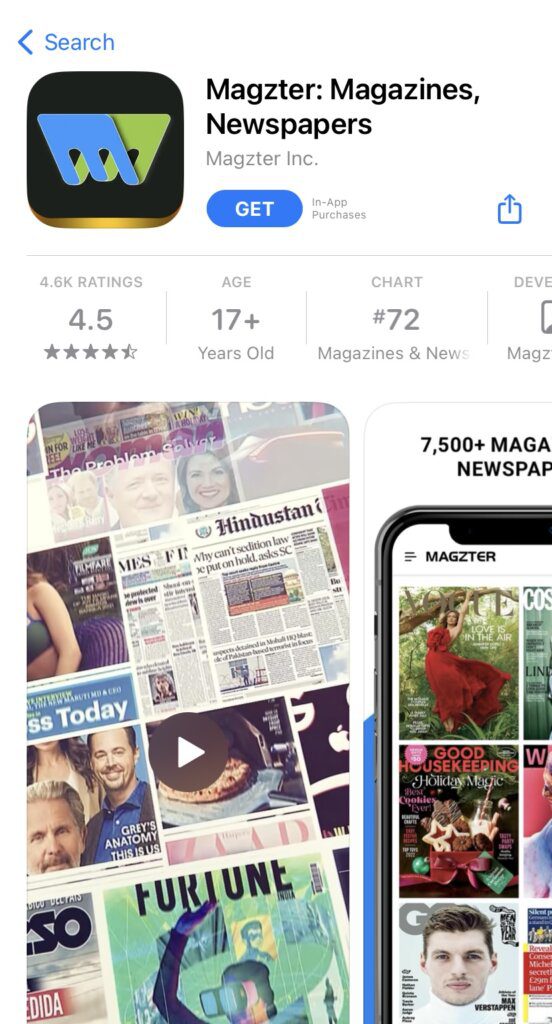 Magzter is a magazine viewer app that offers 7,500+ newspaper and magazine titles in one monthly subscription. Popular titles include Cosmopolitan, Newsweek, ELLE, Harper's Bazaar, Marie Claire, Maxim, Men's Health, Entrepreneur, Popular Mechanics, The Guardian, and Daily Mirror.
Pricing:
The Magzter Gold plan gives you access to all of their titles for $9.99 per month or $99.99 per year. You can share your account with 4 family members.
Where to get it:
2. Readly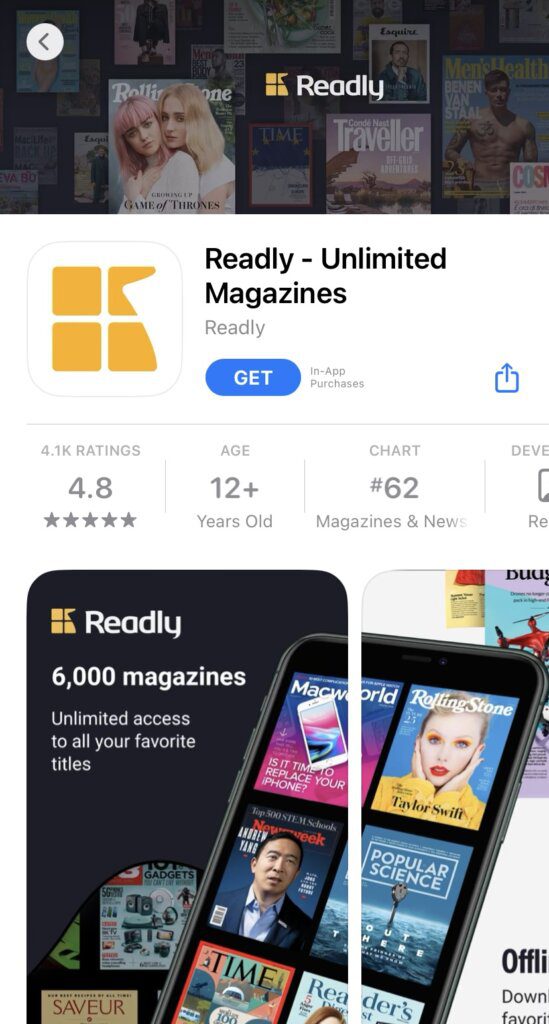 Readly is similar to Magzter. With 6,000+ titles, there's a lot of overlap in the newspapers and magazines available. However, Readly offers more special editions on sports and celebrities.
Pricing:
Readly costs $11.99 per month and offers a month-long free trial. You can share it with your family and use it on up to 5 devices.
Where to get it:
3. Apple News+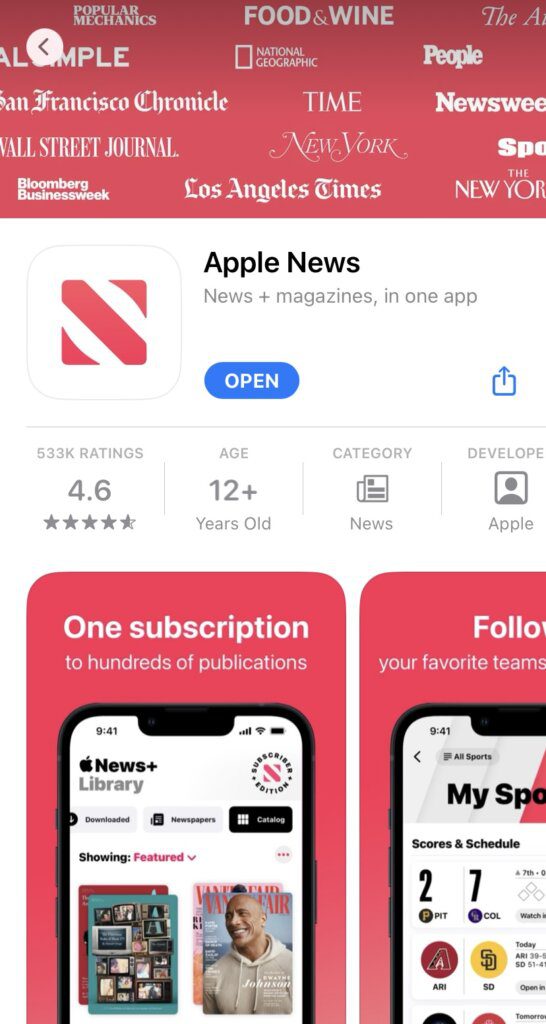 Apple News+ is a popular magazine viewer app for Apple users. It offers the best reading experience for Apple phones and tablets. Plus, you get access to the most popular magazines in the US.
Pricing:
On the free plan, you can access some news articles. To enjoy all available newspaper and magazine titles, you'll need to subscribe to Apple News+ for $9.99 per month.
Where to get it:
4. PressReader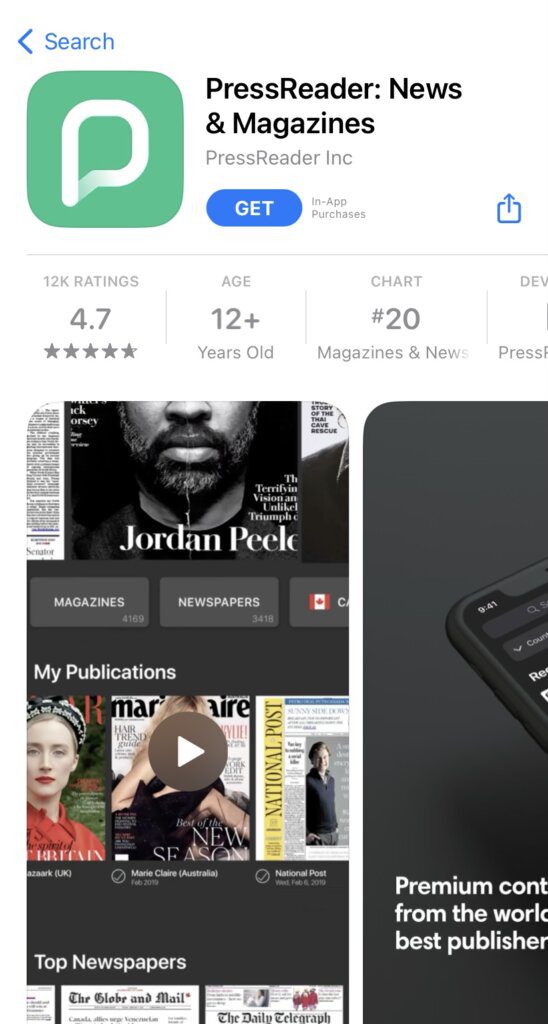 With PressReader, you get 7,000+ newspaper and magazine titles in one app. The magazine viewer also offers instant translation for up to 16 different languages, so if you're looking for more content in other languages, this might be the app for you.
Pricing:
Coming in at $29.99 per month, PressReader is the most expensive option on our list. It offers unlimited reading on up to 5 devices so you can share it with your family.
Where to get it:
5. Medium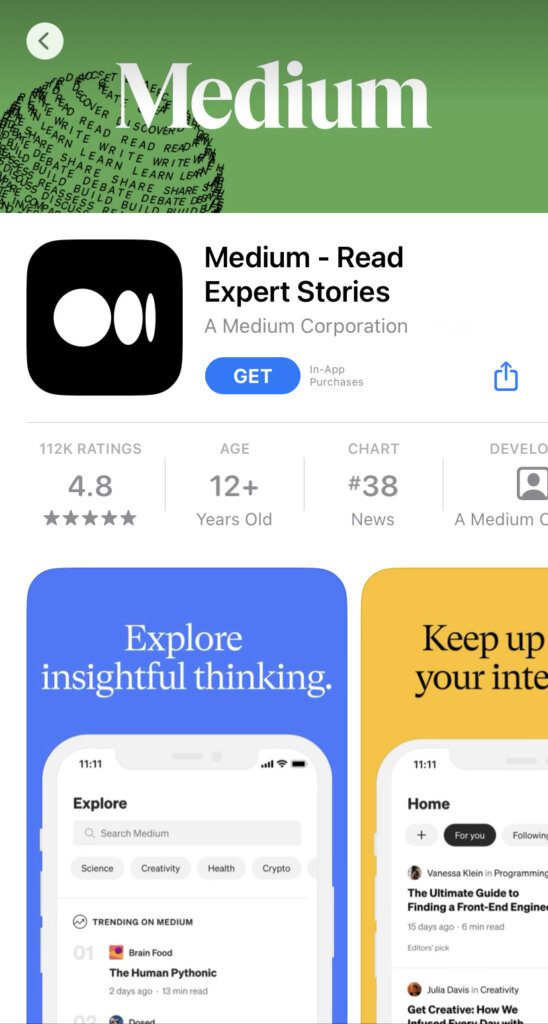 Medium is a platform that anyone can use to easily create their own digital magazine. The platform offers news articles, poetry, and advice from content creators around the world. It's great for niche hobbies and professional thought leadership.
Pricing:
A Medium membership costs $5 per month or $50 per year. On the free plan, you get 3 locked stories for free per month as well as access to all unlocked stories (with ads).
Where to get it:
An additional tip for finding the right magazine viewer
As a reader, you might not want hundreds of magazines. Maybe you only want to read your favorite magazines digitally. Try opening up your app store and searching for your favorite magazine. If it's a popular magazine, chances are that they offer their own native mobile app. A subscription to that magazine app might be more affordable than one of the aggregator options above, or it might offer benefits like subscriber-only content and special editions.
Create your magazine viewer app with eMagazines
eMagazines offers the technology and custom services publishers need to convert their magazine content into a beautiful, easy-to-read digital edition. We also build and maintain native mobile apps, deliver digital editions to your subscribers, and distribute content to Apple News+.
We're behind the best mobile reading experiences in the world. Our clients include TIME, People, Rolling Stone, and Bloomberg BusinessWeek, as well as niche and regional publications across North America.