With so many different magazine subscription software on the market, it's hard to know which direction to go. Are you better off using an industry heavy hitter that streamlines more of your backend operations or opting for a new, industry-agnostic platform that has better marketing integrations and landing pages so you can grow your revenue?
In this guide to magazine subscription platforms, we present the 13 best choices and offer insights to help you decide which one is best for you.
For more advice, make sure to check out our articles on magazine software across all categories and magazine reader apps.
1. QuickFill
Industry specialization: Magazine publishers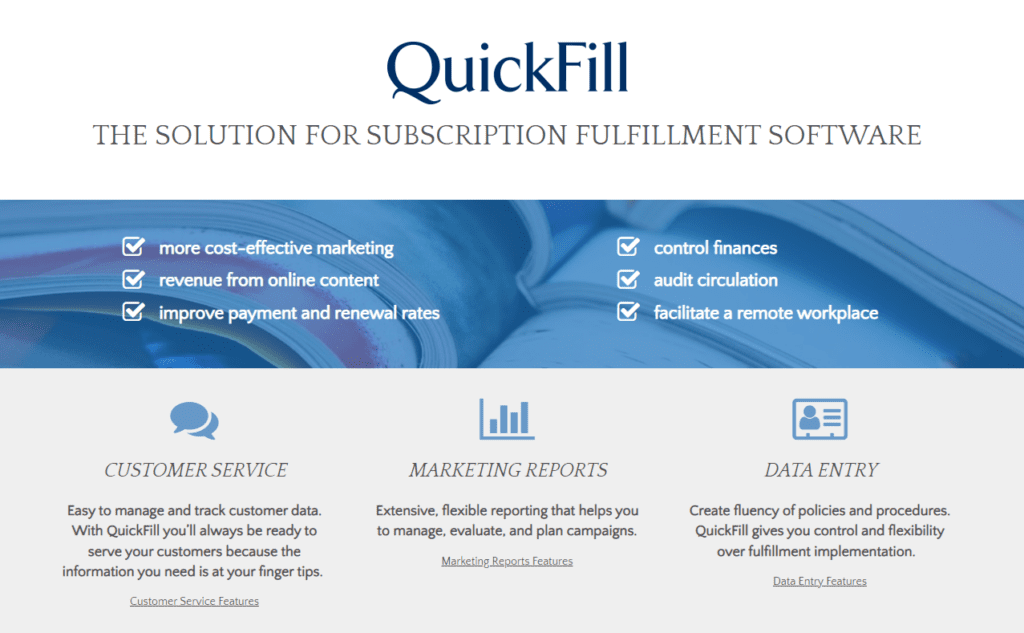 QuickFill offers a variety of features for managing magazine customers and subscriptions, such as marketing reports, customer service management, accounting, billing and renewals, user segmentation for promotions, custom branding, and sales tax and postage management. You'll also get audience data like demographics, purchase history, and fulfillment history, as well as comprehensive reporting to uncover data trends in new orders and renewals. QuickFill also offers an audit module where you can record the required information to produce reports for AAM, BPA, or VAC standards. They also offer a variety of integrations with other popular platforms to streamline your magazine operations.
2. eMagazines
Industry specialization: Magazines publishers

eMagazines is a digital magazine production platform used by People, Time, Outside, Rolling Stone, and dozens of other leading publications. In addition to helping you reflow any PDF or HTML file into a beautiful, easy-to-read digital magazine, we also offer software and services for your subscription order pages. We integrate the landing pages directly with your mission-critical backend systems for instant data synching. We create landing pages that are modern and continuously optimized through A/B testing to help you drive more magazine subscriptions, as well as more purchases for back issues and special issues. We can add upselling and cross-selling options to every cart.
You can visit this page to learn more about our subscription order pages.
eMagazines also offers fulfillment for digital magazines, which you can learn about here. 
3. SubscriptionFlow
Industry specialization: Industry-agnostic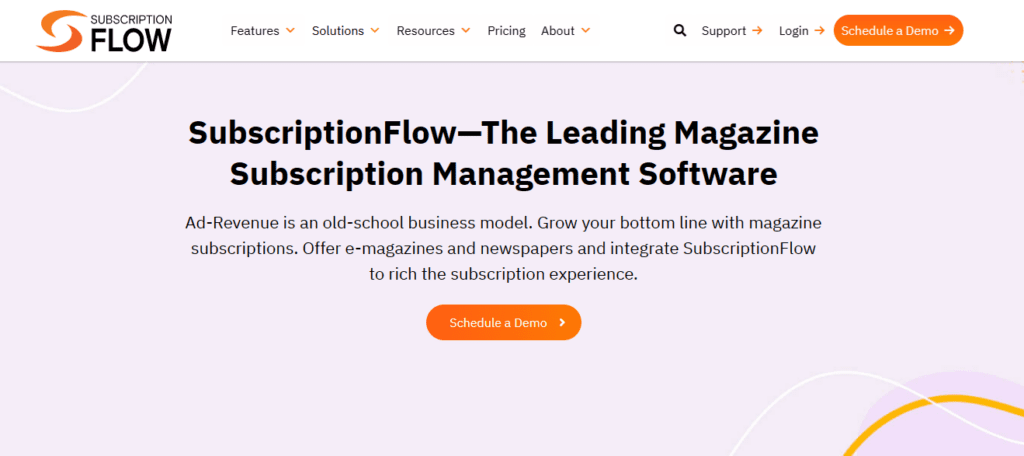 SubscriptionFlow serves not only magazine publishers, but other industries with recurring revenue models, such as SaaS, ecommerce, e-learning, online memberships, and sports and gym facilities. Their popular features include recurring billing, metered billing, pay-per-use billing, checkout management, payment gateways, proration, and free trial management. Customers also get a portal where they can manage their payment and contact information and subscriptions, reducing the demand on your customer service team. You can also use their subscription management features, which allow you to synch SubscriptionFlow with your other operational systems for fulfillment automation.
4. SimpleCirc
Industry specialization: Magazine publishers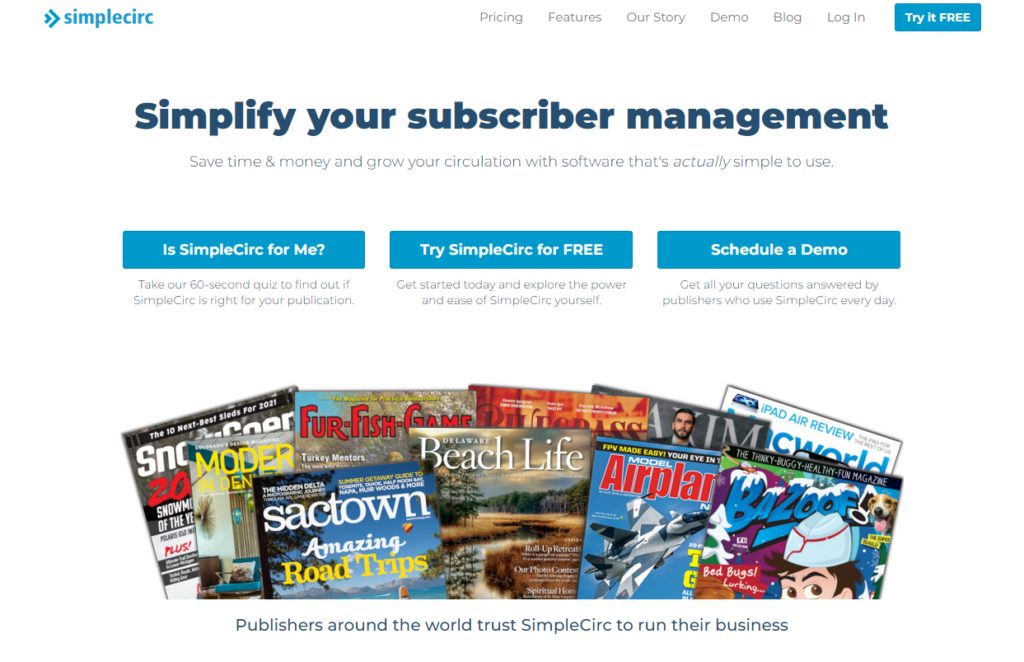 SimpleCirc was designed for publishers of print magazines and newspapers. It's great for industry, trade, consumer, niche, hobby, and regional publications. Top features include subscriber management, online ordering pages, upselling, and cross-selling, back issue sales, merchandise sales, subscriber qualification (for B2B publications), automated renewals, USPS address validation, and a variety of platform integrations. You can also use SimpleCirc to offer access to your digital library of content if you produce digital editions. This platform can work great in combination with eMagazines as your solution for top-quality digital editions.
5. Chargebee
Industry specialization: Industry-agnostic

While Chargebee is mostly focused on B2B SaaS and consumer tech, it can work well for media publications as well. Their features are designed to help publishers rely more on reader revenue and less on ad revenue. You can add Chargebee's drop-in checkout and self-service portal to your website to allow customers to subscribe to your magazine and manage their subscriptions. Unlike many magazine-industry platforms, Chargebee offers advanced features for optimizing your checkouts. You can use their Moments features to try new checkout strategies and their Cart Abandonment reports to A/B test the experiments. Then, integrate Chargebee with your magazine fulfillment system to automate delivery.
6. Omeda
Industry specialization: Magazine publishers

Omeda is a robust magazine subscription solution with several useful features: customer data platform, data management and governance, form building, digital magazine fulfillment, credit card processing, recurring billing, invoice creation, and a National Change of Address (NCOA) integration to make sure you've got the most up-to-date addresses at all times. The platform also offers email and marketing automation. You can segment your users and send customized, targeted campaigns for additional products, subscriptions, and special issues.  You can also set up automated onboarding journeys for new subscribers, so you bring them deeper into your world and help them access everything their new subscription has to offer.
7. Keylight
Industry specialization: Industry-agnostic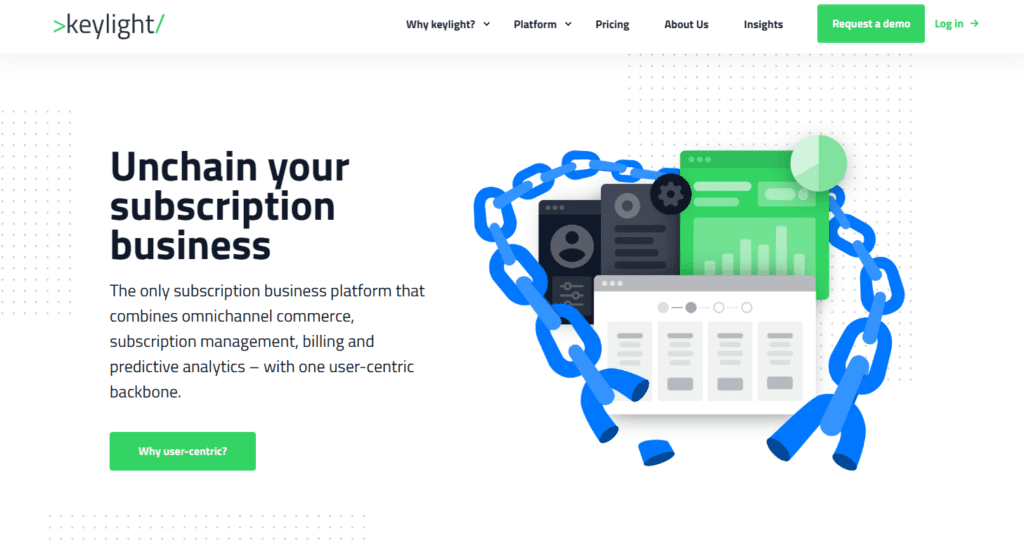 With Keylight, you can manage any type of recurring revenue business, including magazines, ecommerce, and SaaS. The platform offers a variety of advanced features that make it a great choice for magazine publishers: product catalogs, automated post-order journeys, customer portal, quote generation, and pipeline management (for B2B sales such as advertising opportunities), discounting, winback campaigns, upselling and cross-selling, product bundling, checkout pages, and payment gateways. You can also use their event hooks and order orchestration features to automate fulfillment and delivery. It's a good solution for digital and CX teams whose developers have continuously struggled with more traditional magazine industry solutions.
8. RunMags
Industry specialization: Magazine publishers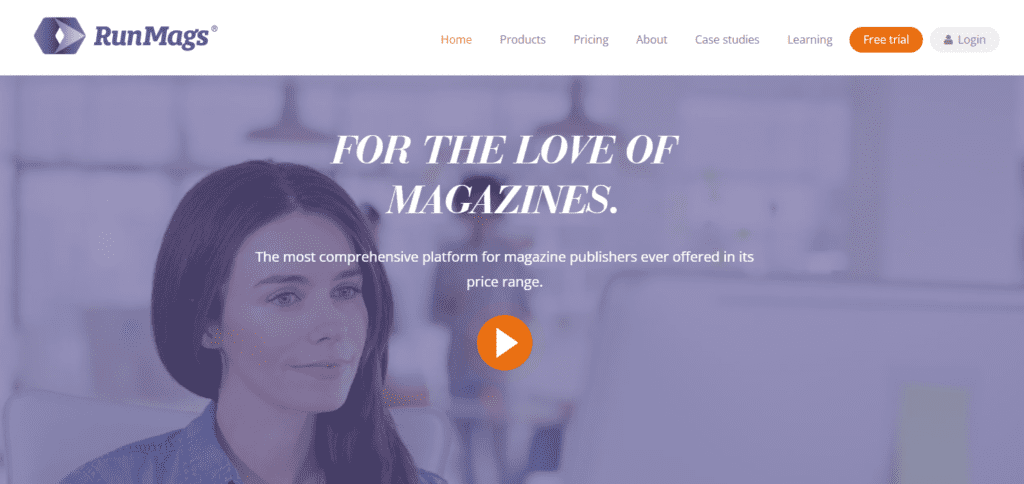 RunMags is a modern, magazine-focused solution for managing both customer relationships and advertising relationships. Advertising sales teams get a robust CRM, proposal software, and contract management solution. Circulation teams get subscription management, mobile-responsive self-service portals, and recurring billing. You can automatically bill both subscribers and advertisers. Plus with their email features, you can send bulk and transactional email that is GDPR compliant.
9. Paperform
Industry specialization: Industry-agnostic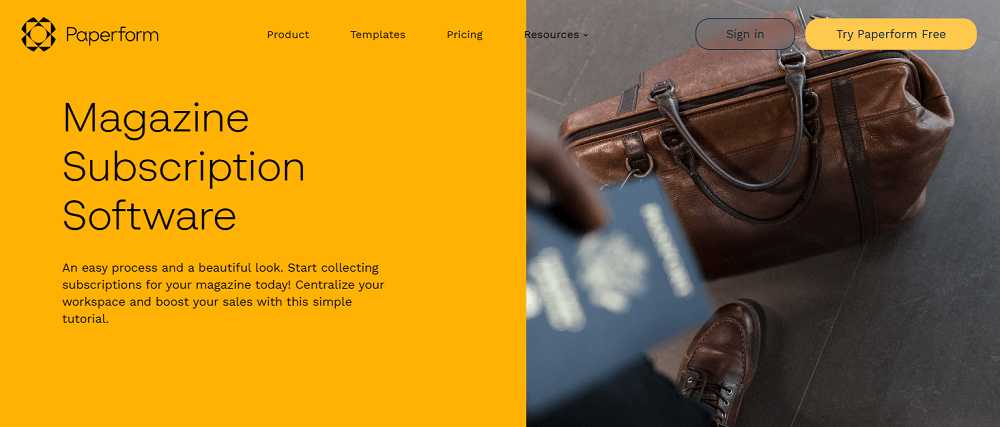 Paperform is a simple online form builder. You can use it to create forms to collect all of the information you need from your new subscribers—and collect payment. You can also offer a variety of subscription products, such as a 6-month, 12-month, and 24-month subscription. You can then connect Paperform to Google Sheets so that it continuously updates your spreadsheet with new and canceled subscribers. Then you can deliver your magazine to the contacts in that spreadsheet. Of course, most professional publishers will need more advanced features, but Paperform is a good affordable option for small businesses and niche publications. Most options on our list begin at hundreds of dollars per month, but Paperform's pricing starts as low as $20 per month.
10. SubscriptionGenius
Industry specialization: Magazine publishers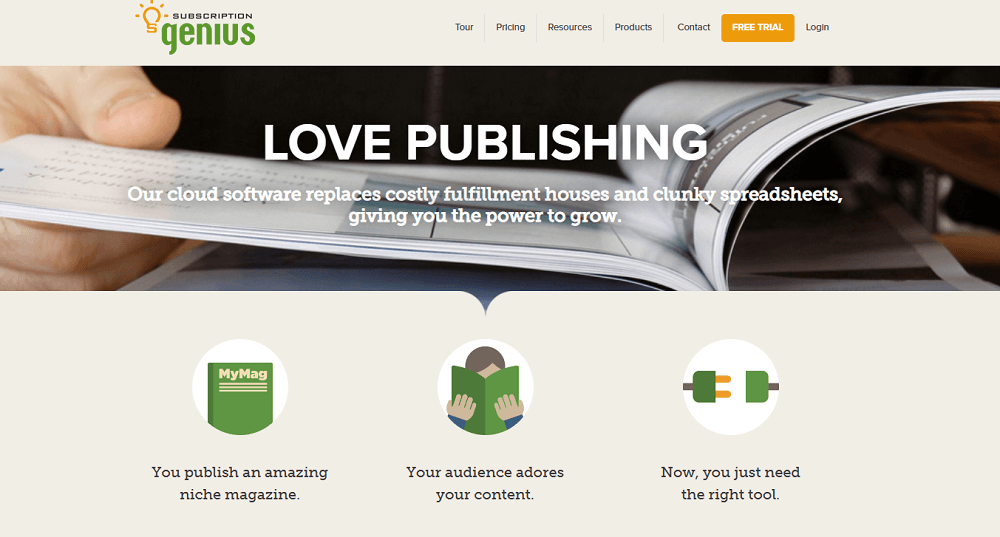 SubscriptionGenius was created for niche magazine publishers. Their cloud platform helps publishers who've found product-market fit to grow and scale. Features include automated renewals, a secure checkout portal, rich subscriber data for analytics and advertising purposes, subscriber management, automated USPS addresses, and a content paywall for your website. There are also a variety of reports to help you spot trends and grow your subscriber base.
11. Recurly
Industry specialization: Industry-agnostic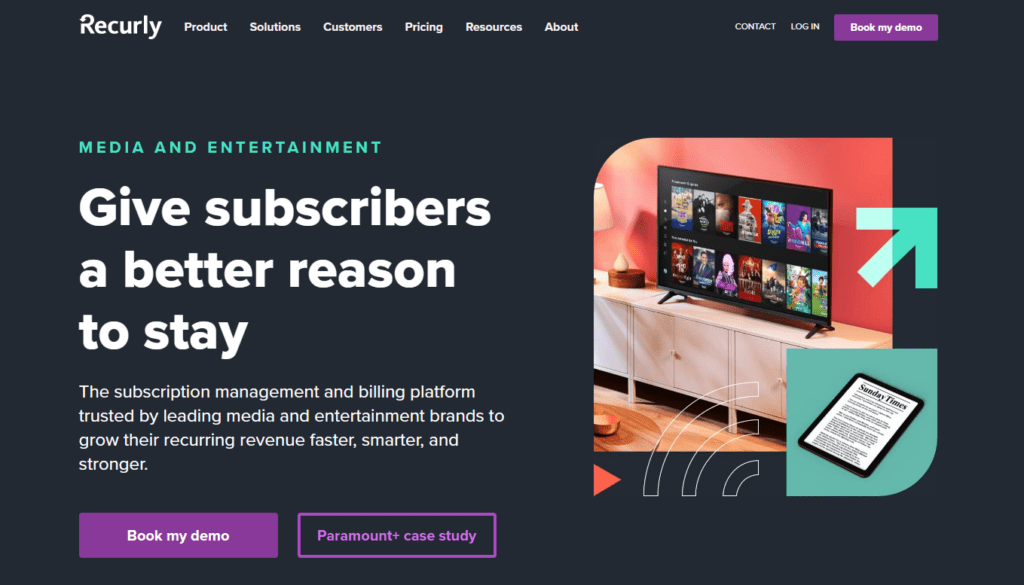 While Recurly can be used for any type of subscription-based business, they do have plenty to offer the magazine industry. When it comes to the other options on our list, Recurly is most similar to Chargebee. In addition to product catalogs, payment checkouts, and recurring billing, you also get A/B testing and revenue-driving experiments. You can test different checkout flows, add-ons, upsells, and subscription types in order to see what drives the most success. You'll get advanced reporting that makes it easy to gain insights. With their software integrations, you can connect Recurly to various other systems.
12. SmartPublisher
Industry specialization: Magazine publishers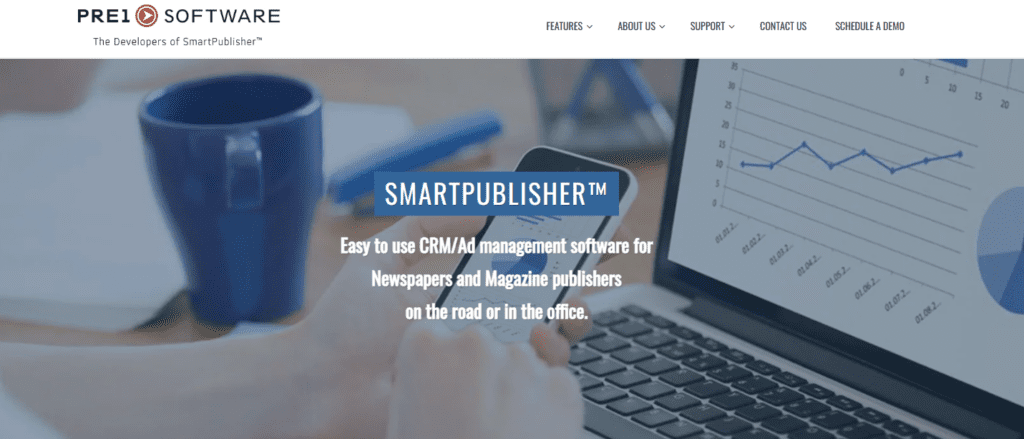 SmartPublisher is a CRM and ad management software for both magazine and newspaper publishers. It offers ad sales, scheduling, production, and billing for print and digital editions in one place. For this reason, it's most similar to RunMags. As for their subscription management, top features include subscription schedules, subscriber management, autorenewal, recurring payment processing, vacation starts and stops, and storing and maintaining delivery addresses. You'll also automatically generate useful reports on your accounting data, production status, and subscriber base that you can use to inform your decision-making.
13. ChargeBrite
Industry specialization: Industry-agnostic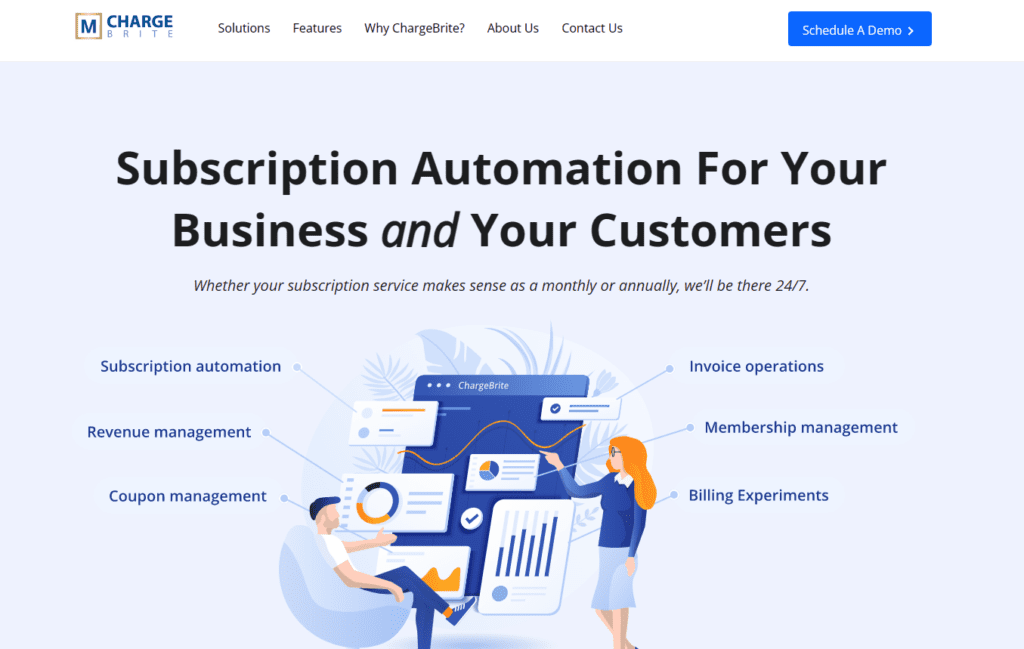 With ChargeBrite, you get subscription automation, revenue management, coupon management, invoice operations, membership management, and billing experiments in one place. You can securely collect subscription payments and autorenew using customizable billing models. You can also run winback campaigns to re-engage former subscribers. With automated renewal reminders, you can reduce refund requests. And with marketing automation features, you can launch a variety of campaigns featuring new products, discounts, and gift subscriptions to broaden your customer base.
The right magazine subscription software comes down to the type of content you publish and your budget. If you're looking to sell, create, and distribute digital editions, eMagazines is an excellent choice. If you're looking to streamline your print edition subscriptions, try RunMags, Simple Circ, or QuickFill. And if you're a brand new publisher launching a small business, use Paperform to sell subscriptions at a low monthly cost.
Looking for the gold standard in digital magazine production and fulfillment? Check out eMagazines. We power the reading experiences behind Bloomberg Businessweek, TIME, Sports Illustrated, and more.