Magazine reader apps give you instant access to both free and paid digital magazines. Whether you're reading on an airplane or during your lunch break, these apps deliver the world's best premium content straight to your mobile and tablet devices. No need to lug around stacks of your favorite magazines.
In this guide, we present the best magazine reader apps, what sort of content you can access, and what you can expect to pay (including free options!).
Keep reading for all the details.
The best magazine apps for readers:
1. Apple News

2. Readly

3. Magzter

4. Flipboard

5. PressReader

6. The app of your favorite magazine
At the end of this guide, we also dive into the top platforms magazine publishers can use to create their own magazine reader app to distribute their digital editions.
The best magazine reader apps for publishers releasing digital editions:
7. eMagazines

8. Zinio

9. MagLoft
Best magazine apps for readers
Whether you want to grab the digital edition of your favorite magazine or discover something new, you'll find all the best content in these magazine reader apps.
1. Apple News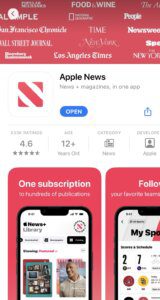 Apple News is a personalized news aggregation service by Apple featuring a comprehensive collection of articles from thousands of newspapers and magazine publications such as Vanity Fair, The New York Times, People, and The Los Angeles Times. Apple News offers tailored content recommendations based on your interests, with a smooth reading experience across iPhone, iPad, and MacOS devices. You'll also get breaking news notifications and interactive stories (including audio and video content) to keep you up-to-date on the latest news across any topic of interest.
Pricing:
With the free version, you get access to current news and some sample magazine content. Or, you can upgrade to Apple News+ for $9.99 per month and get access to hundreds of premium newspapers and magazines, including top titles from the US and around the world.
Where to get it:
2. Readly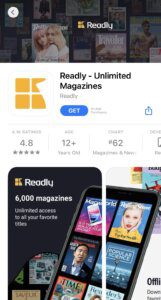 Readly is an online magazine subscription service that offers unlimited access to 6,000+ US and international magazine titles, including back issues. Popular titles include Newsweek, TIME, Reader's Digest, and Rolling Stone. You also get access to lots of special editions created by magazine publishers, such as on a specific celebrity, sports team, trend, or current event. Readly works great on both mobile and tablet devices and is well-regarded as one of the best (and most affordable) digital newsstand apps.
Pricing:
A monthly subscription to Readly costs $11.99 per month. Unlike other options on our list (which only offer a 7-day free trial), Readly gives you a full-month free trial, giving you plenty of time to decide if it's the right app for you.
Where to get it:
3. Magzter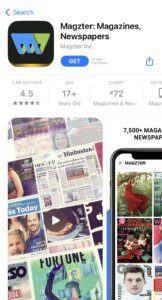 Magzter is an excellent magazine reader app because it offers 7,500+ newspapers and magazines across 40 content categories, all in one place. Popular titles include Car & Driver, GQ, Men's Health, Wired, Travel+Leisure, Forbes, and Better Homes & Gardens. You can download issues for offline access, making it the perfect app for air travel or a remote getaway.
Pricing:
Magzter has a variety of pricing options. The most popular plan is Magzter Gold, which gives you unlimited access to all 7,500+ titles for $9.99 per month or $99.99 per year. Best of all, you can share your premium account with up to 4 family members.
Where to get it:
4. Flipboard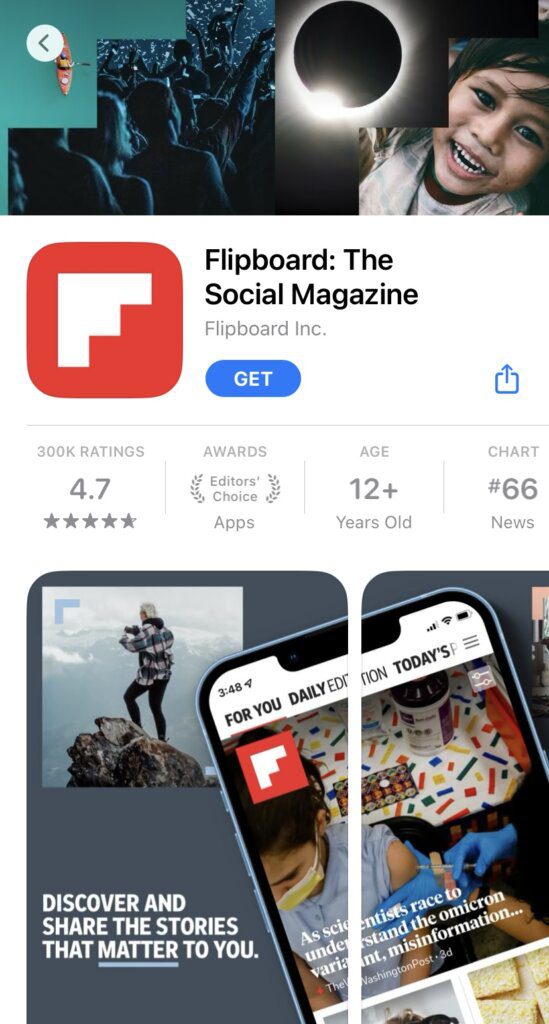 Flipboard is a popular app for reading online magazines and news articles. You can follow topics that interest you to automatically aggregate content into your own digital magazine (specially curated just for you). You'll receive content from outlets such as CBS News, ABC News, USA Today, and more. You can also follow other users to see what content they share. The app is great for news-related content but if you're looking for magazine articles on lifestyle, food, or travel, you'll be better off using another app on our list.
Pricing:
While Flipboard doesn't have as much premium lifestyle content as the other apps on our list, it is free to use, making it a great option for infrequent usage. Flipboard makes it revenue from advertising so expect to see full-page ads.
Where to get it:
5. PressReader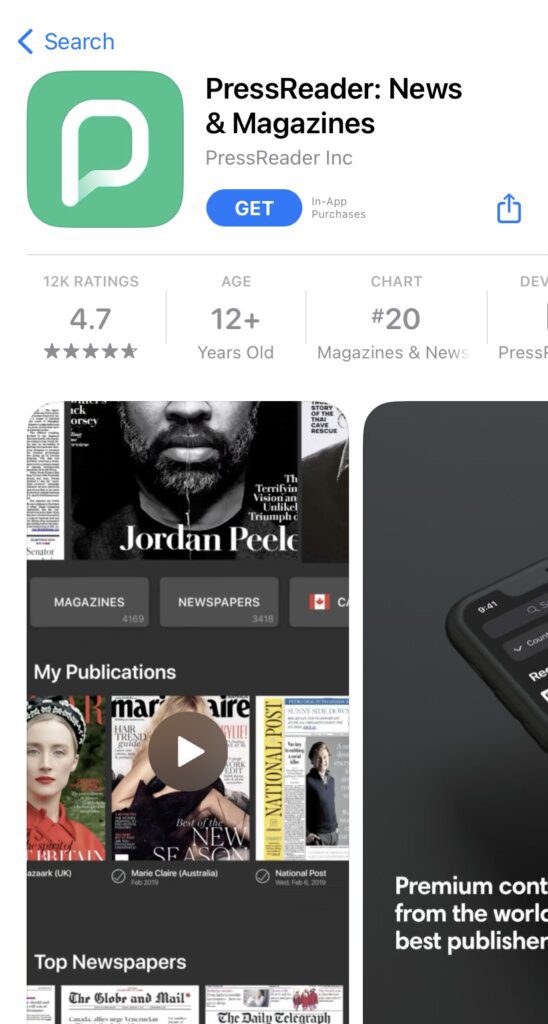 With PressReader, you get 7,000+ titles in one place. With the multi-platform reading experience, you can seamlessly switch from your phone to your tablet and back again. What's more, newspaper and magazine content can be automatically translated into up to 16 different languages, allowing you to consume content in your favorite languages. Top newspapers include The Washington Post, The Guardian, Los Angeles Times, Chicago Tribune, and Boston Herald. Top magazines include Forbes, Bloomberg Businessweek, Fast Company, Reader's Digest, Cosmopolitan,
Pricing:
With a monthly cost of $29.99, PressReader is the most costly magazine reader app on our list. However, it does offer unlimited reading access on up to 5 devices, making it an economical option for couples and families.
Where to get it:
6. The mobile app of your favorite magazine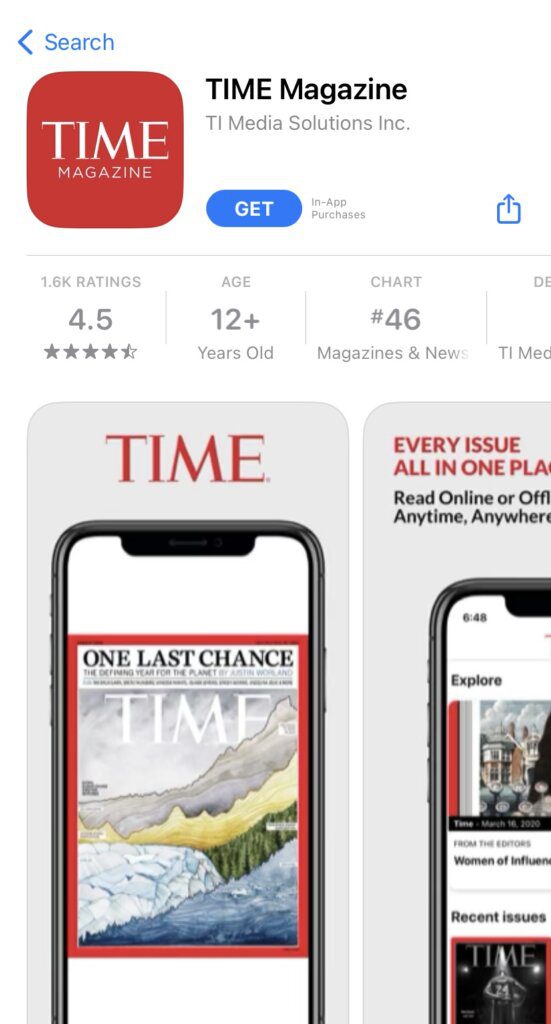 Many popular magazines have their very own apps, including:
Real Simple
The New York Times
Vogue
People
TIME
National Geographic
Cosmopolitan
If you only read one or two magazines per month and are looking to start reading online instead, you might enjoy purchasing a digital subscription directly from the magazine publisher. This can give you special benefits, such as access to subscriber-only video, audio, and special issues. This can also save you money on the subscription if the magazine you want to read regularly costs less each month than the price of one of the other apps listed above.
So, it's worth searching the names of your favorite magazines in the app stores and seeing what they have to offer before you commit to one of the aggregator apps like Readly, Magzter, PressReader, etc.
Pricing:
The cost varies widely, but many magazine apps offer some free content even if you don't have a paid subscription. For example, with People's mobile app, you can read all of their free online articles in one seamless reading experience. Plus, you can listen to audio digests and purchase individual issues ($5.99 each) and special issues (typically $13.99 each). Or you can subscribe to People for $9.99 per month and get access to all available issues, including back issues.
For Real Simple magazine, however, you'll only pay $2.99 per month to access all issues.
Where to get magazine apps
*If you can't find the mobile app for your favorite magazine, this means they don't offer a dedicated app. So use one of the other options above, such as Readly or Magzter, to access their digital editions instead.
Best magazine apps for publishers releasing digital editions
Magazine publishers have two main options when it comes to releasing digital editions. They can create their own branded mobile app and make it available in the Apple and Android app stores, or they can go "appless" and deliver digital editions that work in mobile web browsers. Below, we offer three different platforms that allow you to publish digital content both ways.
7. eMagazines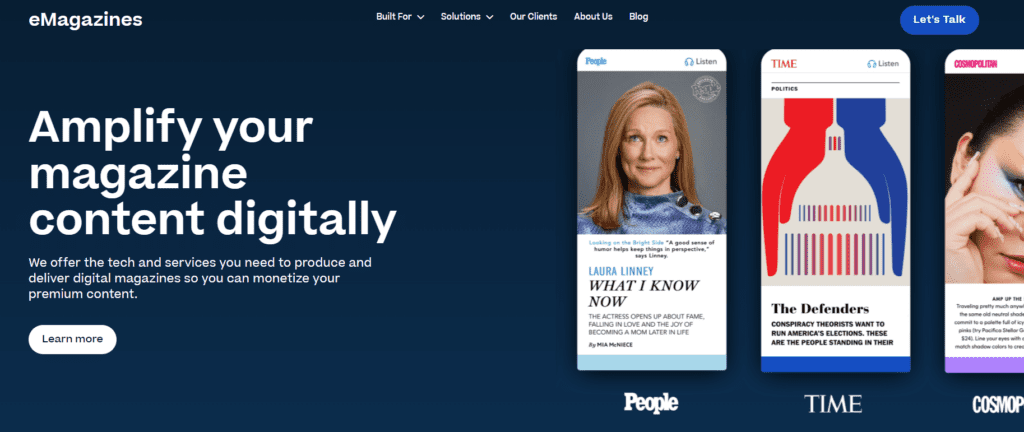 Are you looking to offer a digital magazine app for your readers? With eMagazines, you can create stunning digital editions and deliver them via email (no app required) and/or distribute them via your mobile app. We create and maintain mobile apps for publishers. Our software and services power some of the most popular digital magazines in the world, including TIME, People, Cosmopolitan, Bazaar, Bloomberg, Sports Illustrated, Rolling Stone, Fortune, and Outside.
Our top solutions include our mobile-optimized reader, turn-key production, automated article audio, Apple News+ delivery, and subscription order pages.
We act as your strategic, hands-on partner to help you come up with the right offers, launch them, and optimize them to increase sales.
Learn more about eMagazines' software and services for publishers. 
8. Zinio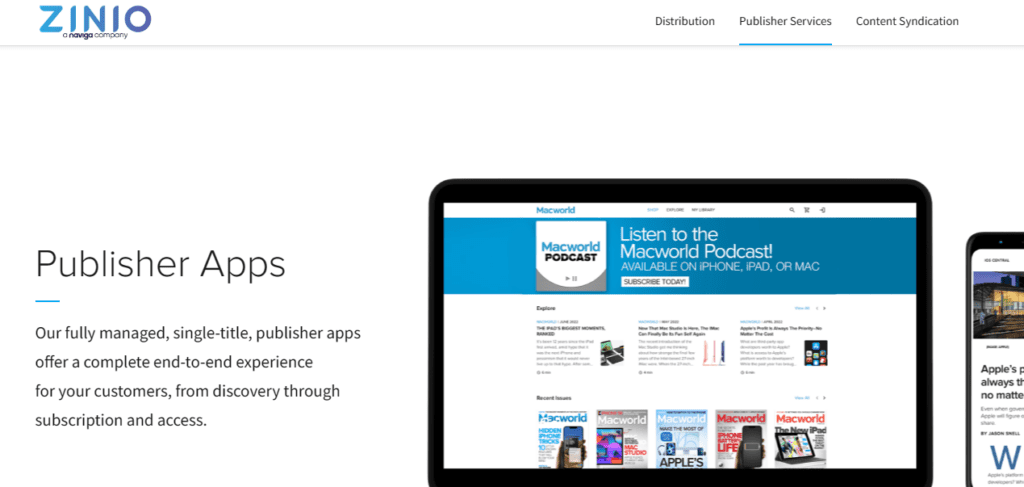 Zinio is a magazine publishing platform that lets you create and distribute digital magazine editions. The company can help you launch and maintain your own mobile app. With your mobile app, you can offer various revenue-driving products, including subscriptions, special editions, and back-issue access.
9. MagLoft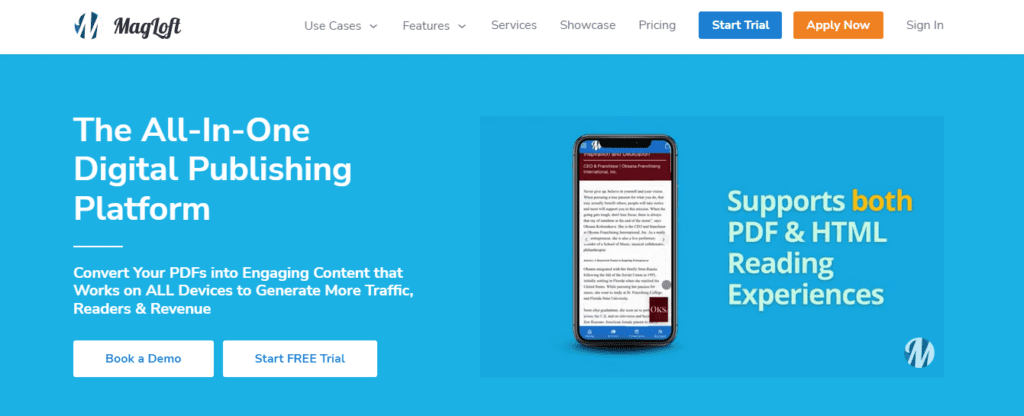 MagLoft is a publishing platform that magazine publishers can use to create PDF or HTML versions of their magazine. Keep in mind that PDFs aren't mobile optimized (readers will have to pinch and zoom to read small text on their phones), so an HTML reading experience is recommended. HTML automatically fits the screen size, making it a better option for reading on both tablets and mobile devices. With MagLaft, you can also manage your website, SEO optimize your free articles, store all contacts in your subscriber CRM, and accept payments.
The final word: which magazine app is right for you?
If you're a magazine reader who wants to read one or two magazines per month, you should search in the app store to discover the monthly subscription costs of your favorite magazine titles, because they might cost less than an unlimited plan to an app with thousands of titles. However, if you want to read three or more magazines per month, you should sign up for an unlimited plan.
Top choices: Apple News+ and Magzter are the most affordable options (both cost $9.99 per month). Because Magzter can be shared with up to 4 people, it's the most economical choice for families and shared accounts.
Hey magazine publishers! eMagazines is the leader in managing mobile apps and creating digital editions. Learn more about us.