Looking for magazine marketing ideas that will actually work? Your strategy needs to consider the magazine industry's unique nature. This means reaching targeted consumers, growing deep in specific niches, and focusing on a high-volume and low-cost approach to growth.
Of course, the more readers you have, the more you can charge for advertising space within your magazine. So your magazine marketing campaigns don't need to be profitable or break even just through subscriber revenue, but should support the overall profitability of the media brand.
If you want smart ways to overhaul your magazine marketing strategy, keep reading for ideas that work for both print and digital magazines.
1. Grow your audience on social media
Social media offers limitless potential for established magazine brands as well as up and coming niche and regional publications.
Rolling Stone got over 11 million views on this video the Beibers and Kylie Jenner vibing at a SZA concert:
That's some serious brand awareness. TicTok, Instagram, YouTube, and Twitter are all great places to publish free entertaining content and watch your audience and subscriber rates soar.
2. Partner with aligned ecommerce companies
Which ecommerce and subscription companies serve the same target audience that you do? Make a list and reach out. You could offer a special low rate for a one-year subscription or partner with the company to give a free gift from their brand for every new magazine subscriber. You can insert your offer in their packaging.
3. Improve your email marketing approach
Nearly all magazines are using some form of email marketing. But not all of them are doing it right.
Too often, marketers focus just on improving the offers at the bottom of the email and getting more click-throughs. But a lot of the potential for uplift comes from better content. Work on increasing your open rates through more interesting and valuable content. Then you can prioritize increasing click-throughs to subscription offers.
4. Offer sign-up bonuses and discounts
Make sure that your magazine subscription offer is as enticing as possible.
In this example from Real Simple, we can see that new subscribers get a bonus (a subscription to Better Homes & Gardens) and a major discount (over half off the normal subscription cost and over 90% off the newsstand price).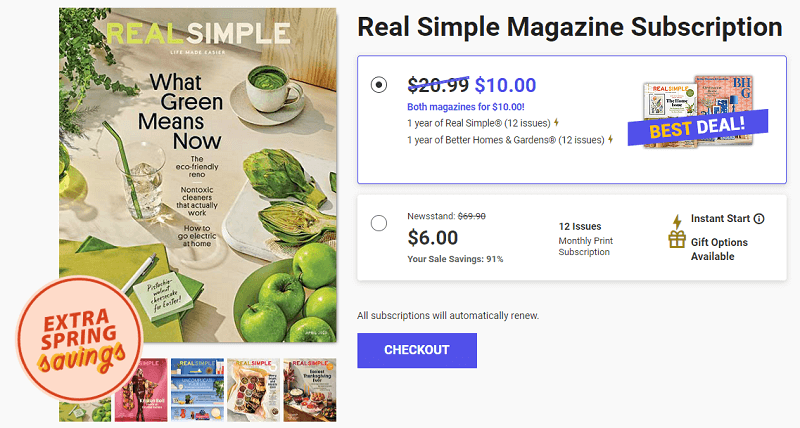 5. Collaborate with influencers and bloggers
It's smart to partner with people that already have access to your ideal target audience. This can mean social media influencers as well as bloggers. You can pay for exposure to their audience. For instance, you might pay them to create a TikTok video about your magazine, or you might pay them to review your magazine on their blog. Rates can vary widely, so if you're not sure what to spend, enlist the help of an influencer marketing agency.
6. Try affiliate marketing
Affiliate marketing is similar in that you are leveraging existing audiences, but the cost structure is totally different.
Instead of paying upfront for exposure the way you do with influencer campaigns, you instead pay a commission for successful sales. Affiliate commissions can range from 10 to 50%, with 20 to 30% being the most common. You'll need to set up attribution and payment using affiliate marketing software and then recruit affiliates who want to sell your magazine for you.
7. Create a referral program
A referral program leverages the power of word of mouth and incentivizes your current subscribers to share your subscription order page with their friends and family. You can use a tool like GrowSurf to set up a tiered referral program and give away swag, free gifts, coupons, and even monetary rewards in exchange for either new leads or new customers.
8. Use SEO to your advantage
Search engine optimization is a great channel for magazines. Because magazine content always needs to be fresh and interesting, many magazines take the same approach with their website and publish current news. But you should also be creating evergreen, SEO-friendly content. For instance, instead of just covering product trends, a beauty magazine could write articles targeting keyphrases like "best LED face masks" and "morning beauty routine."
SEO will drive a ton of traffic to your website, which you can then convert into email leads and new magazine subscribers through pop-ups, blog sidebars, and retargeting ads.
9. Partner with distribution companies
eMagazines offers magazine software and services, including direct relationships with magazine distribution companies that can get the digital edition of your magazine in retailers, airlines, hotels, medical offices, libraries, and universities.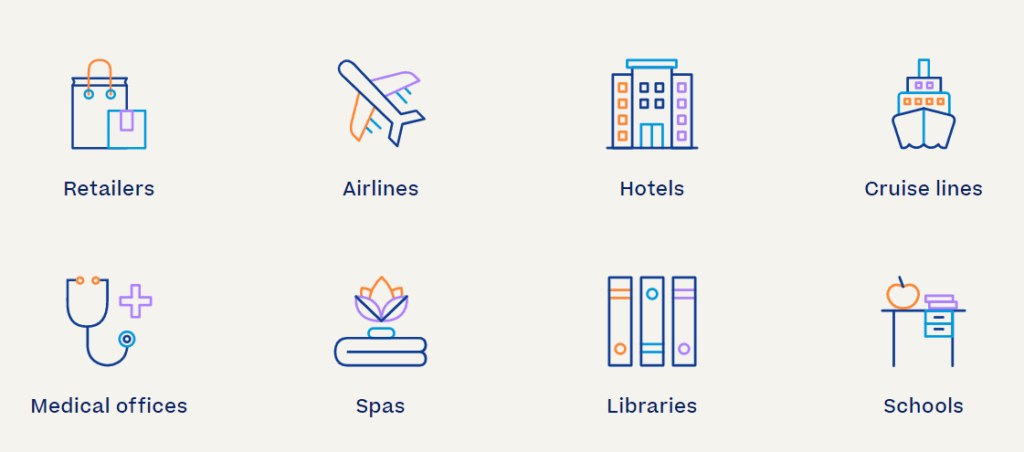 10. A/B test your order pages
Make sure that you are A/B testing your order pages. This includes both special issues, one-off issue purchases, and subscription offers.
We offer continuous optimization as part of our subscription order page management services. The pages are modern and clean and integrate with your CDS or Darwin.
One of our favorite strategies is offering free access to your entire back issue archive or a few special issues to increase conversions.
11. Repurpose your premium content
Our magazine issue repository software was designed to store decades of backlog content along with useful metadata so that you can reuse old articles. You could turn these articles into fodder for content marketing and social media marketing campaigns, or create bonus special editions that you use to improve conversion rates on your subscription landing pages.
12. Start a podcast
Many magazine brands grow their audience and awareness through podcasts. You can come up with a cool show idea and interview guests. Or turn content that you're already creating for YouTube into a podcast. For example Vogue asks questions to celebrities on their YouTube channel. They have also converted each episode into a podcast episode, thereby increasing their reach.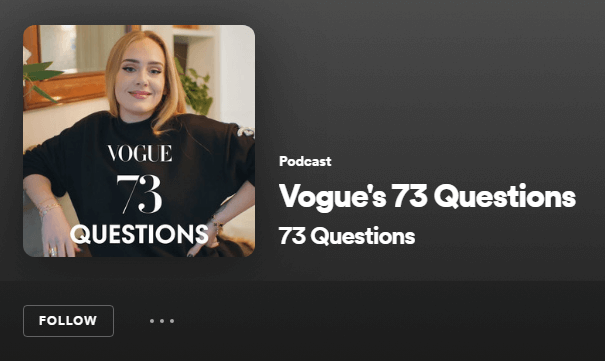 13. Run display ads
Compared to social and search ads, display ads can be a lot more affordable per click, making them a good fit for magazines and other high-volume businesses. You can choose the types of websites your ads appear on, in terms of audience, niche, content category, and website purpose. You can even bargain directly with website owners for a lower cost per click to ensure campaign profitability. (Check out our sister company Oplytic for expert help.)
Of course, ideas will remain unless you implement them. Fortunately, many of the above ideas can be handled through strategic partnerships and agency relationships rather than all in house.
Looking to create and distribute the most beautiful digital edition of your magazine? Learn more about eMagazines.